MENU WATCH
What's New Now
If you haven't been to your favorite Portland restaurant in a while, here's what you're missing on the latest fall menus.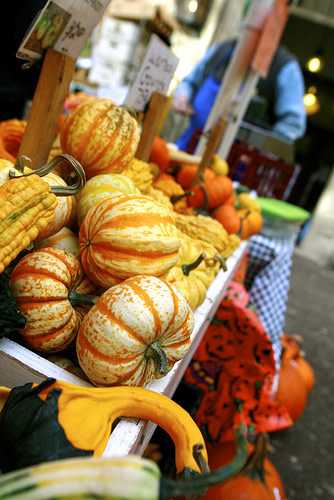 For all the lip service we give seasonal and local ingredients in Portland, the food media tends to celebrate specific year-round dishes from top restaurants (see: Pok Pok's fish sauce wings, Pine State's biscuits, or any burger anywhere).
As much as I love the mainstays of many menus, I think it's important to celebrate the true seasonal changes most Portland restaurants undergo this time of year. I've culled the stand-out dishes from autumn menu shake-ups around town so you can change your regular restaurant choices in time with this season's 40 degree forecast and falling leaves.
(Remember, many Portland menus change weekly or even daily, so call ahead to confirm what's on the current menu!)
Clyde Common 1014 SW Stark St.; 503.228.3333
New Fall Favorites: Celery root and potato soup, roasted delicata squash salad with Clyde Common ham, hazelnuts, and aged balsamic, and pappardelle with kale pesto, pine nuts, chanterelles, and chèvre.
DOC 5519 NE 30th Ave.; 503.946.8592
New Fall Favorites: Mustard green salad with smoked ham and potatoes, leek custard with tolosa beans and fried chicken mushroom, and pork with farro, delicata squash, porcini mushrooms, and cabbage.
Bluehour 250 NW 13th Ave.; 503.226.3394
New Fall Favorites: Jerusalem artichoke soup with saute?ed porcini mushrooms, fall vegetable salad with kuri squash, roasted quince, and candied pumpkin seeds, and slow roasted pork with roasted brussels sprouts and cider jus.
Paley's Place 1204 Northwest 21st Ave.; 503.243.2403
New Fall Favorites: Fall vegetable and heirloom bean cassoulet, garlic rabbit ravioli with bacon and mushrooms, and red wine braised elk shoulder with chanterelles, polenta, and greens.
Departure 525 SW Morrison St.; 503.802.5370
New Fall Favorites: Spiced scallops with kuri squash puree, candied kumquats, and galangal, bibimpap with wagyu beef, egg, and kimchee, and curry noodles with sous vide chicken, mustard greens, and toasted chili oil.
Wildwood 1221 NW 21st Ave.; 503.248.9663
New Fall Favorites: Grilled carrot and delicata squash salad with roasted gypsy peppers and red lentil cracker bread, lamb osso bucco with celery root mash and porcini mushrooms, and duck confit with quince puree and caramelized sunchokes.
The Original 300 SW 6th Ave.; 503.546.2666
New Fall Favorites: Chicken pot pie with mushrooms, celery root, parsnips and lemon, housemade spice roasted applesauce, and potato gnocchi with chanterelles, proscuitto, roasted grapes, and sage.
Tabla 200 NE 28th Ave.; 503 238 3777
New Fall Favorites: Sliced heirloom apple and squash salad with Serrano ham chips and cider foam and duck confit with black lentils, concord grape sauce, poached cranberries and hazelnuts.
Bastas Trattoria 410 Northwest 21st Ave.; 503.274.1572
New Fall Favorites: Red wine braised goat with winter garden vegetables and spelt polenta, Pizzoccheri (housemade buckwheat tagliatelle with cubed potatoes, savoy cabbage, taleggio cheese, and sage butter), and chanterelle risotto with house made guancale and caramelized onions.
Nostrana 1401 SE Morrison St.; 503.234.2427
New Fall Favorites: Creamy, creamless squash soup with amaretti cookie crumbs, fettuccine with Lava Lake lamb and chanterelle ragu, and tricolore pizza with chanterelles, shiitakes, radicchio, fontina, and sage.
Country Cat 7937 SE Stark St.; 503.408.1414
New Fall Favorites: Barbeque braised beef with fried potatoes and chanterelles, crispy quinoa and barley cake on smoked squash puree, and stewed chanterelles with Walla Walla onion pie.
Looks like chanterelles, heirloom squash, greens, and hearty ragu will be getting us through the cold weather. What—and where—do YOU look forward to eating in the fall? Tell me in the comments!