Christmas Shopping
Gift Guide: Whiskey Stones
The solution to dilution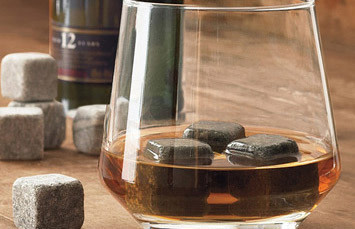 Those jackbooted thugs behind the ultra-secretive ice cube lobby have been fooling us for years. All this time we've been made to believe that frozen chunks of H2O were the only method of keeping our cocktails chilled. But unless we keep our homes at temperatures only a polar bear would find balmy, we've been watering down our precious cask-aged hooch like amateurs.
Luckily, a group of soapstone workers in Perkinsville, Vermont have come up with Whiskey Stones, a set of hand chiseled soapstone squares that keep your drink nice and chilled, without the threat of unintended dilution. Just pop these bad boys in the freezer for a few hours and when your ready for that nightcap, let them stand for five minutes before tossing them into your glass. Finished? Just give them a quick rinse and toss them back in the freezer.
While the product's namesake may lean to one specific libation lover, we're confident the gin fanciers and vodka enthusiasts in your life will love these enemies of room temperature domination.
Each purchase comes with a set of nine US Minded soapstones and a convenient drawstring carrying bag.
This is the fifth in an ongoing series of Christmas gift posts for the imbiber on your list. From costly to cut-rate, we'll try to find a budget for every bank account. Any gifts that are not met with an immediate display of genuine enthusiasm can be dropped off at the Portland Monthly offices. Be sure to include the receipt.