HOMETOWN PRIDE
PDX's Italian History Guru on CNN
CNN's food blog Eatocracy recently featured Portland's Marco Frattaroli and his favorite subject, Italian culinary history. Plus: we've got the first word on his next historical dinner symposium.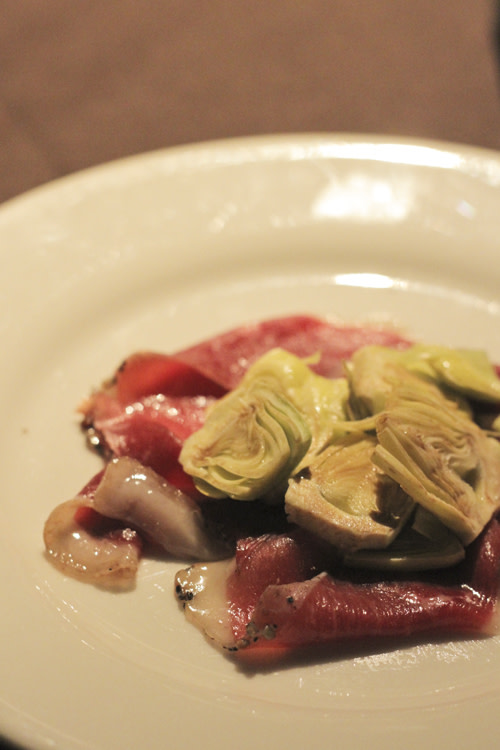 Marco Frattaroli—chef and owner of Bastas Trattoria on NW 21st—has been quietly making some of the best Italian food in Portland for almost two decades, but he isn't very quiet about his passion for Italian culinary history.
This fall, the native Italian chef debuted a three-part Italian history dinner series, and now he's snagged a guest spot on CNN's Eatocracy, exploring the Five Events that Changed the Course of Italian Food. In short, you could say Frattaroli has been shouting his passion for the roots of his favorite cuisine at the top of his lungs. Luckily, he understands the best way to get people to listen to your love of history: fill their mouths with food.
The first Bastas' dinner series—part symposia on the development of Italian cuisine, part multi-course feasts—explored the impact of the Renaissance, the Early Roman Era, and the Jewish Diaspora on Italy's food culture, complete with guidance from some of Portland's best historians and professors. Each casual lecture enlightened diners to the significance of certain spices and ingredients in the very dishes they were served, from spit-roasted quail and rabbit (dished out by servers in Renaissance garb) to crunchy jellyfish salad and delectable goose breast prosciutto.
If you missed out on the previous dinners, there's another one coming up in the Spring. On Tuesday, March 6th, guests will explore the Advent of Italian-American Cuisine, from bologna to spaghetti and meat balls. The $50 multi-course dinner will feature Italian-American favorites and will surely pack some surprises. To reserve your spot, call the restaurant at 503-274-1572, and prepare to get schooled (and fed).
Bastas Trattoria 410 NW 21st Street