In the Kitchen
Best Ever Cookies
It's just not the holidays without the tried and true traditional cookie classics.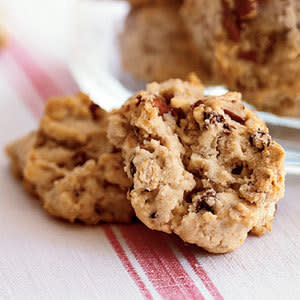 For many of us, Christmas brings out a craving for classics, an instinct to adhere to traditions. Baking cookies is no exception. Trying new recipes is fun, but in perhaps a majority of American households, there's got to be time for whipping up some chocolate chip cookies.
What could be more classic than toll house cookies and the recipe taken from the back of the crinkly package of Nestle Toll House morsels? Well, nothing – except if you've already adapted the classic yellow package with your own special ingredients, and you've got to make your family's favorite Christmastime butter cookies too.
What are your must-have holiday cookies? For me, the best ever chocolate chip cookie recipe (holiday season or not) is one that appeared some years ago in Cooking Light magazine. Actually, it's my adaptation, since I use a bit more chocolate than they say to! (Clever, aren't I?) But that's a tradition by now too. And it's a tradition alongside my Dad's German butter cookies (originally from Nana). Naturally I can't choose just one cookie recipe to make this time of year.
Toll House Cookies came about from Ruth Wakefield tinkering in the kitchen of her Toll House Inn in Whitman, MA one day in 1930. Putting the recipe on the package was Nestle's idea, once they'd realized (in 1939) that selling their chocolate in "morsels" would save bakers the step of having to chop up the chocolate bar.
The Cooking Light "best chocolate chip cookie ever" recipe (my title) is actually an oatmeal pecan chocolate chipper, but even if you're not an oats or nuts fan, give it a try. The cookies come out crispy on the outside but just moist and chewy enough on the inside. Their butter content is significantly lower than a typical chocolate chipper, but you'd never know it. (I admit, though, that I use more than their allotted amount of morsels, and have never bothered to use mini-morsels, though they would likely melt even better. But I like my adaptation!)
Oatmeal, Chocolate Chip and Pecan Cookies
Ingredients
1 1/4 cups all-purpose flour (about 5 1/2 ounces) 
1 cup regular oats
3/4 teaspoon baking powder 
1/2 teaspoon baking soda
1/2 teaspoon salt 
3/4 cup granulated sugar 
1/2 cup packed brown sugar 
1/3 cup butter, softened 
1 1/2 teaspoons vanilla extract 
1 large egg 
1/4 cup chopped pecans, toasted 
1/4 cup semisweet chocolate minichips
Preparation
Preheat oven to 350°.
Lightly spoon flour into dry measuring cups; level with a knife. Combine flour and next 4 ingredients (through salt), stirring with a whisk; set aside.
Place sugars and butter in a large bowl; beat with a mixer at medium speed until well blended. Add vanilla and egg; beat until blended. Gradually add flour mixture, beating at low speed just until combined. Stir in pecans and minichips. Drop dough by tablespoonfuls 2 inches apart onto baking sheets lined with parchment paper. Bake at 350° for 12 minutes or until edges of cookies are lightly browned. Cool on pans 2 minutes. Remove cookies from pans; cool on wire racks.
Recipe from Julianna Grimes and Ann Taylor Pittman, Cooking Light , December 2007
Dad's German Butter Cookies
Cream together:
Add:
3 eggs, beating in one at a time
1 t. vanilla
In separate bowl, mix together:
4 c. flour (sifted before measuring)
2 t. baking powder
Blend flour mixture with butter mixture and refrigerate 3 hours or more (overnight is fine). Roll out cookies and cut into whatever shapes you like. Bake at 325º F. (or a bit higher) for about 10 minutes.
Recipe from Herman Belz
Happy baking!