comedy gyros
Sandwich Stars
Big-Ass Sandwiches throws a big-ass party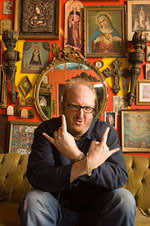 Lisa Wood woke up one morning last year and tweeted to the world that she and her husband/business partner Brian were interested in trading some of their Big-Ass Sandwiches for tickets to cool shows in town. Imagine her surprise when four hours later, comedy star Patton Oswalt rolled up to their cart on SW Ash with a hungry belly and a pair of tickets to his show. As Lisa puts it, "I feel like I won the f******* Internet!"
That day would spawn a series of curious friendships between Big-Ass Sandwiches and professional funny folks, characterized mainly by a new tradition of naming their absurdly-sized, mouthwatering, french-fry-filled sandwiches after local and touring comedians (as well as bands). This incredibly Portlandy trade-off has resulted in entrees like native Portlander and rising comic Matt Braunger's sandwich "The Fat Braunger", and local laugh-getter Ron Funches' "A Delicious Situation."
Saturday night, Wonder Ballroom is the spot for Big Ass Sandwiches' Two-Year Anniversary bash, hosted by reigning Portland's Funniest Person Ian Karmel. It's a wintery celebration of sensational sandwiches (and the people who love/make them) with sets from Ron Funches as well as lovable metal-nerd Brian Posehn from The Comedians of Comedy (whose sandwich is called A Vulgar Display of Porkage because he's a Pantera fan). Not overwhelmingly cool enough for you? Headlining the evening will be local metal heroes (gyros?) Red Fang—who recently co-hosted and judged the local air guitar championship with Karmel.
"I am a hugely passionate comedy nerd in the same way that I'm a nerd about music. There seems to be a lot of crossover between those two communities, and I didn't know if anybody had really combined the two here in town," says Lisa, "so this show is gonna be a good one."
While this is by no means the first merger of rock and comedy, it should prove to be a particularly epic one. This showcase is jam-packed with top-tier talent guaranteed to make it an unforgettable—and incredibly metal—night for the ages.
Lisa admits, given the economic climate, she and Brian are extremely happy to be celebrating a second year with a few of their favorite things.
"We work really hard—we're here every day, working nonstop, and we don't get much of a chance to see friends and family anymore. So this is the one time of year when we can just close down, party, and talk to people. We had no idea it was gonna be so big this year, but we want the people who eat here—our regulars as well as new faces—to be able to get together, take a break and celebrate. We're so grateful to our customers, seriously. I see so many carts closing every day, and we're just happy that people like our food so much and keep coming back. We are truly, humbly thankful."