Christmas Shopping
Bar Pilot's Gift Guide #3
Burnside's bottled brews at Belmont Station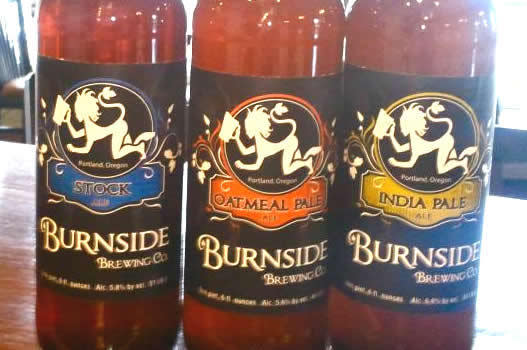 The aging of beer in sturdy oak barrels that once housed bourbon, brandy, port, and other high-powered hooch is de rigueur these days. But let's not overlook the sublime simplicity of a nice, fresh ale. Tonight at Belmont Station starting at 6, three of Burnside Brewing's top beers, created and curated by brewmaster Jason McAdam, will be available in 22 oz. bottles for you to collect and covet (or I suppose you could simply drink them). Take home Burnside's IPA, Oatmeal Pale Ale, or Stock Ale for yourself, or wrap them lovingly with ribbons and bows for the craft beer connoisseur on your list.
In case you're wondering, I am especially fond of the Stock Ale, an E.S.B. style blessed with a superb balance of hops and malt. Hopefully Burnside's Sweet Heat will find its way into a bottle before too long.
This is the third in an ongoing series of Christmas gift posts for the imbiber on your list. From costly to cut-rate, we'll try to find a budget for every bank account. Any gifts that are not met with an immediate display of genuine enthusiasm can be dropped off at the Portland Monthly offices. Be sure to include the receipt.