Market Watch
Don't Panic – Get Panettone
The celebratory Italian fruitcake is a far cry from the laughed at Anglo-American versions.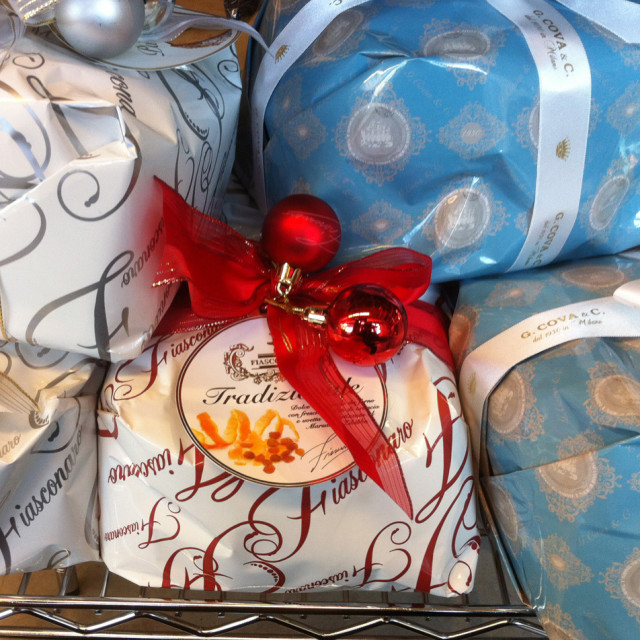 American and English holiday fruitcakes are subject to as much derision as Rodney Dangerfield, but their Italian cousin, Panettone, is another story. The Italian raisin and citrus studded leavened bread is ever more suave, sophisticated, and appealing. It's also a traditional winter holiday cake which, unlike its Anglo cohorts, is not suitable for use as a doorstop.
Panettone is known for its tall, domed profile, which comes from being allowed to rise at least twice. The double rising also gives it a longer shelf life, which may account for its popularity as a boxed bakery item mass-produced and sold through the holiday season in Italy since the 1920s. Today, you'll find these cakes at this time of year in their distinctive, beribboned, slant-sided boxes even at Trader Joe's and discount stores like Marshall's. I can't vouch for the flavor of all the brands out there, though probably even a sub-par panettone would make a good bread pudding or French toast.
No matter, though, because a good panettone is easy to find in Portland – and also possible (I won't say easy) to make at home. Pastaworks carries a couple of highly recommended Italian imports. Di Prima Dolci Italian Bakery and Cafe, Lovejoy Bakers, and the Pearl Bakery all make their own delectable versions of the tall cake that has to cool upside down.
The King Arthur Flour website tells you how to make panettone from your own starter; the recipe is for an Americanized version – baked in a tube pan, or as single sizes – but the instructions are very thorough and clear, including photos.
Mario Batali's recipe is simpler: more egg yolks, no starter, less time. Epicurious recommends you bake your own in a coffee tin, while Sur la Table (in the Pearl District and Bridgeport Village) sells bake-and-serve decorative paper molds, just like the fancy bakeries use (25-75 cents each).
Power to the Panettone!