Christmas Shopping
Drink Deck the Halls
Deals in these cards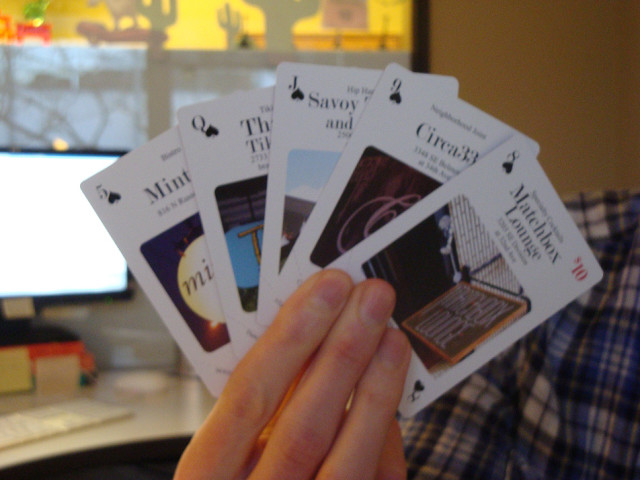 How many times has this happened to you? After several rounds of cocktails and a few orders of funky finger food at a local watering hole, the check arrives and you have a petit mal seizure when you get to the bottom line. It's not that you weren't prepared to exchange currency for goods and services, but rather that the particulars of the evening somehow got away from you. Friends dropped by, had drinks and the lion's share of the nachos, and then simply vanished into thin air like Flight 19 in the Bermuda Triangle. Who ordered Napoleon brandy? Did we really polish off 14 pints of porter? The upshot is, you're stuck with a bill that's quite a bit more than you were prepared to pony up. Enter the Drink Deck.
The brainchild of the appropriately named Will Glass, Drink Deck is a pack of 52 playing cards (yes, they can be used as playing cards), each worth $10 off your bill at a particular Portland eating and drinking establishment. Stuck for ideas about where you and your posse will spend your leisure time in pursuit of burgers and buzz? Just take a card, any card, and make plans for an excursion. Each card has an identifying photo, a descriptive (e.g., neighborhood joint, sports bar, bistro, hip hangout, etc), the bar's website, address, and phone number, everything you need to make an informed destination decision. There is a catch: You and your buddies must spend at least $30 in order to receive the $10 discount, which seems reasonable to me. At the moment, there are Drink Decks in Portland, New Orleans, and Chicago, with more plans for an ever-expanding empire. And for technologically savvy types, there is a smart-phone version. Why is this a great idea? Because it inspires voyages of exploration instead of another dull evening at the same ol' place. Think of Magellan, Admiral Byrd, and other notable drinkers torn from the pages of history.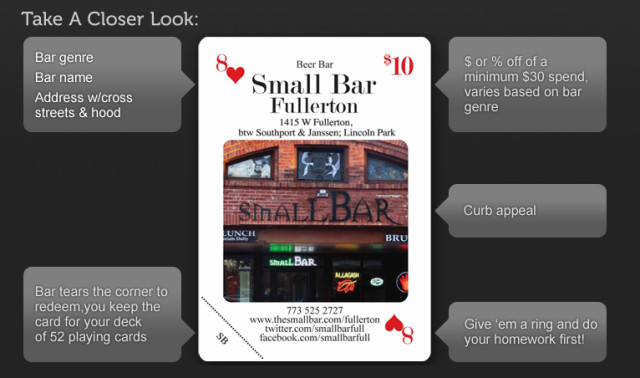 If you're thinking a Drink Deck would make a great Christmas gift for that lovable lush in your life, now is a good time to pounce, because the price of a deck is currently at $24.99 (normally $29.99). A visit to the website is a smart move, because there's always news about special offers and even parties, like the Drink Deck One-Year Anniversary soiree, happening Dec 15 at Vendetta (an RSVP from the website is required). So deal those cards and shuffle off for an evening of adventure.
This is the fourth in an ongoing series of Christmas gift posts for the imbiber on your list. From costly to cut-rate, we'll try to find a budget for every bank account. Any gifts that are not met with an immediate display of genuine enthusiasm can be dropped off at the Portland Monthly offices. Be sure to include the receipt.