FOOD AND DRINK EVENTS
Eat Beat Weekly Planner
Our digest of Portland's top upcoming food and drink events, including a modernist cuisine beer pairing dinner and the third annual artisans' holiday marketplace at New Deal Distillery.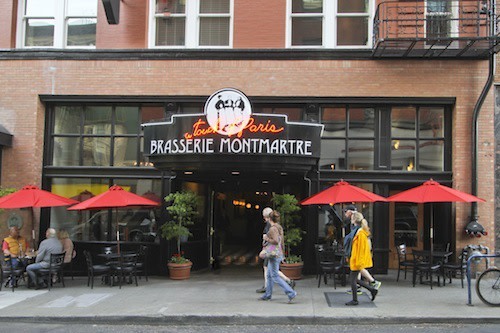 Need some events to get you through the early December mid-holiday slump? Here's this week's list of upcoming food, beer, and wine events to help you stay in the know.
Author Molly Stevens Gets Roasted with Jason French at Ned Ludd
What: A celebration of James Beard Award-winning author Molly Stevens new book "All About Roasting: A New Approach to a Classic Art" with Chef Jason French at NE Portland's Ned Ludd. Indulge in a menu inspired by the new cookbook—think roasted trout with tomato-orange relish, roasted quail with shallots, and maple-brined pork loin with onion, apples, and a mustard crust—meet the author, and get a copy of the book for yourself or the folks on your gift list.
When: Tuesday, December 6th at 6:30 pm.
Where: Ned Ludd, 3925 NE MLK Blvd, Portland
How Much: $80 per person, includes dinner, wine, and cookbook. Reservations required. Call Ned Ludd at 503-288-6900 by 5 pm on Monday December 5.
BridgePort Brewing Company's 3rd Annual Ebenezer Pub Crawl in Multnomah Village
What: Sip your way through Multnomah Village, including stops at John's Market, The Ship, Journey's, Renner's, Jimmy's, and O'Connors. You'll also have a chance to win BridgePort swag and prizes like a complete snowboard package, lift tickets to Mount Hood Meadows and gift certificates to the brewpub.
When: Thursday, December 8 at 5 pm.
Where: Crawl begins at John's Market; 3535 SW Multnomah Blvd.
How Much: Pint prices vary, crawl will include free samples and prizes.
Grower Champagne Dinner at Castagna
What: An evening of modern cuisine and grower Champagnes with Chef Justin Woodward, Sommelier Jack Hott, and Brian Martin of Galaxy Wines. The dinner will feature four courses paired with bubbly, including winter squash "hot and cold" with wild char roe, razor clams with walnut custard, mead and scallop broth, and rockfish with cabbage, seaweed and mussels.
When: Thursday, December 8 at 6:30 pm.
Where: Castagna 1752 SE Hawthorne Blvd
How Much: $100 per person, including dinner and champagne pairings. For reservations, call 503-231-7373.
23Hoyt Brewer's Dinner with Coalition Brewery
What: A holiday dinner paired with beers from Southeast Portland's Coalition Brewing. Dishes are set to include smoked squash agnolotti with sage butter and Parmesan (paired with Mr. Pig's Pale), brown butter scallops and sunchokes (paired with Two Dogs IPA), and "twelve hour" beef cheek with cauliflower cream and grilled polenta (paired with Lost Glove Strong Ale).
When: December 10 at 6:30 pm.
Where: 23Hoyt 529 Northwest 23rd Avenue.
How Much: $55 per person, all inclusive. For reservations, call 503-445-7400.
3rd Annual Season's Eatings Local Food and Spirits Market
What: A local artisans' holiday marketplace at New Deal Distillery, supplying gifts and goods from Olympic Provisions, Kelly's Jelly, Unbound Pickling, Briar Rose Creamery, Xocolatl de David, Water Ave Coffee and Confectionery. New Deal will also be debuting their new ginger liqueur.
When: Saturday, December 10, from 11 am to 6 pm.
Where: New Deal Distillery 1311 Southeast 9th Avenue.
How Much: Admission is free with a donation of one non-perishable food item for the Oregon Food Bank.
Brewing up Cocktails Winter Holiday Special Edition
What: The return of Brewing up Cocktails, the beer cocktail event featuring both hot and cold beer-powered libations like the popular Hot Scotchy (made with hot unfermented beer and Scotch—truly delicious), Wassail (Deschutes Jubelale slowly heated with brandy, sherry, spices and citrus) and the Furburger (Great Divide's Oak Aged Yeti Imperial Stout with Chartreuse and bourbon), plus four new recipes to inspire your winter home bartending. Bonus: This year's fete includes an ugly Christmas sweater contest, so wear your worst!
When: Saturday, December 10th from 6 to 9 pm.
Where: The Hop & Vine 1914 N. Killingsworth
How Much: Drinks individually priced.
Bones, Brews and Brown Spirits Dinner at Burnside Brewing
What: Burnside Brewing's first in-house beer and spirits dinner, featuring Burnside Beers from Brewmaster Jason Mcadam and Glenmorangie scotch paired with modernist cuisine from Chef Ronnie Vance. Dishes are set to include Lemon Meringue Pie-inspired leg of lamb, Toffee-Coffee duck confit, and Peppermint Patty-inspired liquid nitrogen grilled chocolate mousse, mint jelly, and pork tenderloin.
When: Monday December 12th at 6:30 pm.
Where: Burnside Brewing Co. 701 E. Burnside
How Much: $75 per person, including all food and drinks. For Reservations email [email protected].
WillaKenzie Holiday Wine Maker's Dinner at Brasserie
What: A five-course holiday wine pairing dinner from Chef Michael Hanaghan and the wines of Willakenzie Estate picked by winemaker Bernard Lacroute. Dishes are set to include foie gras terrine, pan-seared scallops, and a pheasant and foie gras pot pie.
When: Friday, December 9 at 6:30 pm.
Where: Brasserie 626 SW Park Avenue
How Much: $70 per person, for reservations call 503-236-3036.
Know about a great event coming up that should be on our radar? Shoot me an email at [email protected] or give me a shout over on Twitter at @allisonejones. Now get out there and start eating!