OPENING WEEK
Look Inside Kim Boyce's Bakeshop, Now Open
Eat Beat's got the first look inside pastry queen Kim Boyce's new NE Portland sweet stop Bakeshop, complete with apple hand pies, figgy scones, and one giant oven.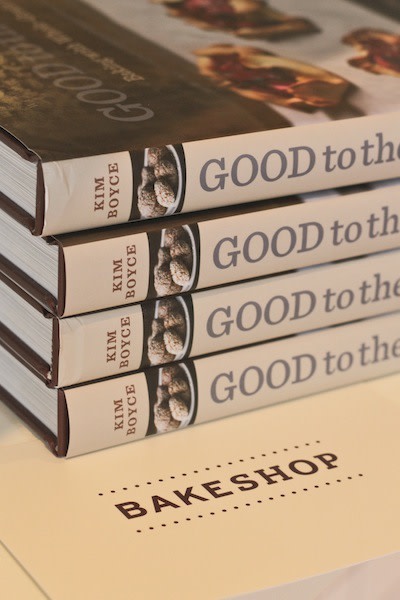 2011 was a banner year for baker extraordinaire Kim Boyce. The flour-dusted author and pastry queen nabbed a James Beard Award this year for her whole-grain cookbook Good to the Grain, and her delectable pastries (previously available exclusively at coffee houses) made mouths happy all over the city.
Yep, 2011 was good to Boyce, but 2012 is going to be even better.
This week's opening of her new NE Sandy sweet spot Bakeshop means fans of Boyce's flaky pastries, cookies, and hand pies have a go-to spot to satisfy their sophisticated sweet tooth.
Boyce is certainly a superstar in the baking world—having worked as Pastry Chef at LA's Spago and Campanile—and the treats coming out of her bright, mirrored, wood-floored shop are certain to garner her even more accolades. Grab a Chocolate Orange Pecan or Maple Scone, indulge in a gold brown fruit-filled hand pie, stop by for a Ginger Molasses cookie, and get inspired to bake your own wholesome treats at home—Bakeshop has a good supply of Boyce's award winning book, and the author is happy to sign them.
Whichever you choose, these goodies are sure to please, and remember that there's nothing like a warm cookie on a rainy day.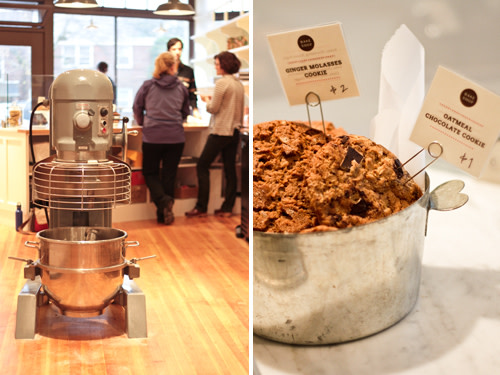 Bakeshop 5351 NE Sandy Blvd.; 503-946-8884
Open 7 am to 2 pm, Wednesday through Sunday.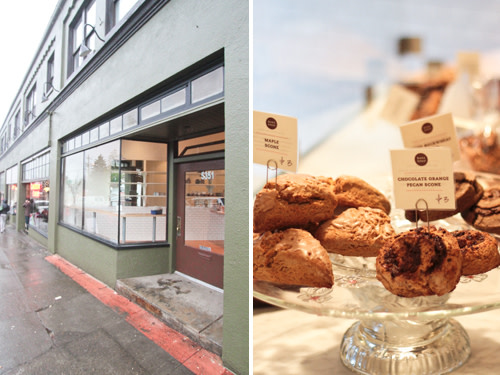 Bakeshop's rather unlikely location next to Case Study Coffee on NE 53rd and Sandy could spark a restaurant boom in Hollywood. Parking may be tough on this stretch of NE Sandy, but Boyce's treats are worth the battle (or the bike ride).
Bakeshop is a order to-go kind of spot. Save for a standing-room-only bar along the window there's no seating, but one bite of Boyce's pastries and you won't have time to sit down before the rest of it is gone.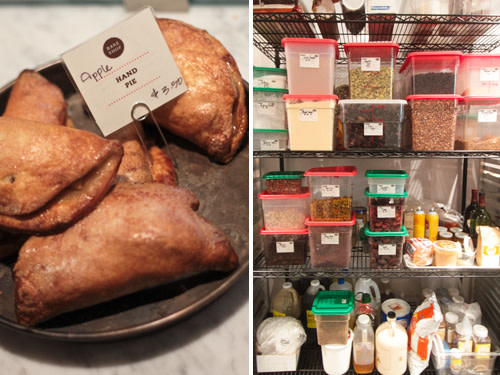 Boyce's pantry is a home baker's dream: Perfectly organized bins of dried plums and dates, walnut and maple sugar, freshly roasted pecans, and flours of every variety are ready to be transformed into Boyce's signature sweets, like these apple hand pies.
Boyce's homemade granola is packed with seeds and oats, a perfect take-home treat that would add plenty of crunch to yogurt or ice cream.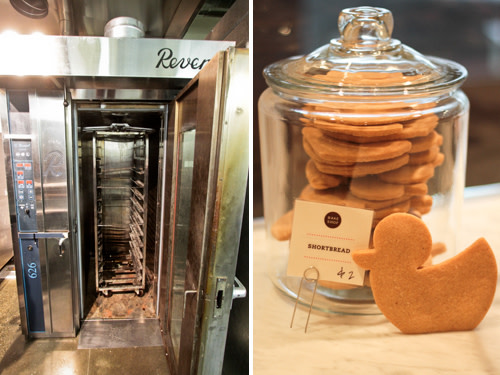 Yes, this giant oven is slightly terrifying, but look at the adorable cookies that come out of it! Boyce's baked goods stay flaky and crisp thanks to the awesome power of this epic oven, which can bake up to twelve trays of scones or cookies at once!