OPENING WATCH
First Look: Sizzle Pie West, Open NYE
Eat Beat snagged the first look at the second location of Burnside's late-night rock-and-roll pizza joint, opening New Years Eve with champagne and a slice for $6.
The folks over at late-night pizza joint Sizzle Pie are polishing up the finishing touches on their west-side location, and we've brought you the first look. Sizzle's second outpost transformed the iconic Rocco's building on the corner of West Burnside and Tenth (across the street from Powell's City of Books) and they're ready for their New Year's Eve debut.
The new location's menu—jam packed with omnivore, vegan and gluten-free options—is a mirror of Sizzle Pie's flagship eatery, offering more than 35 varieties of thin-crust pizza by the slice, half-slice, and whole pie.
Popular pies range from the classic—the D-beat (plain cheese) and the Ace of Spades (pepperoni)—to the creative. On weekends you can snag a slice of Brunch Pizza and a Bloody Mary for $6, and the surprise hit Gold Chain pie features white truffle oil, goat cheese, pancetta and green onions.
Sizzle Pie West is set to open on New Years Eve, and they'll be slinging a $6 slice-and-champagne special for their kick-off party on Saturday (starting at 6 pm). Rock on, pizza people, rock on.
Nü location: 926 W. Burnside Street
Ye Olde Location: 624 E Burnside St; 503-234-7437; sizzlepie.com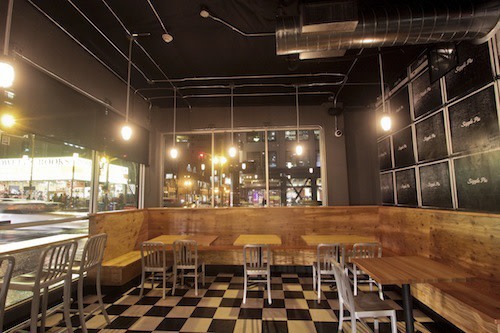 Sizzle Pie West offers plenty of seating and great people-watching opportunities on one of the busiest corners in Portland. A wheatpaste poster wall (to the right) proudly displays a graphic black-and-white grid of the eatery's logo.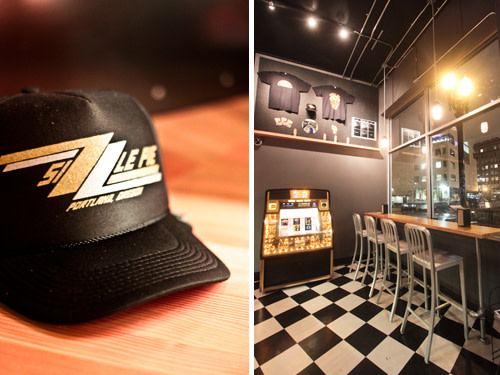 Continuing the rock-and-roll vibe of the Eastside location, Sizzle Pie West features a prominent jukebox and some truly awesome memorabilia (which you can also check out online). Finally, a trucker hat I'll be proud to wear!
The East Coast-style pies inspired the eatery's slogan war cry—Death to False Pizza—which is boldly printed on each and every pizza box.
The wall above the soda machine is composed of stacked speakers and amps, and the open kitchen grants diners a great view of pies coming in and out of the oven.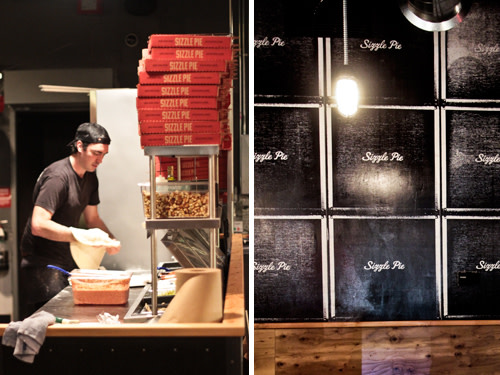 Sizzle Pie has earned national recognition for their creative and saucy alternatives to marinara, including housemade New Deal Vodka cream sauce, Oregon pinot noir marinara, and Secret Aardvark blended red sauce for fans of the local hot sauce.