Desirables
Grans and Slabs of Salt
Nothing is more basic than salt, and yet the varieties are endless.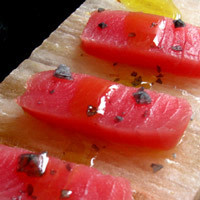 Salt of the earth. Take it with a grain of salt. Salt is, in our language as well as our daily culinary intake, the ultimate basic. Indeed, it's even a basic ingredient in our bodies – we all need a certain amount of salt to live, to fire the electrical signals in our nervous system and help regulate the water content of our bodies (water makes up more than 60% of our body weight).
And yet, what we think of as the cliche of condiments is not what you will find at The Meadow, a specialty store in the North Mississippi Avenue neighborhood of Portland. The salt there is basic in a different way – pure, unrefined, from the mountains of the Himalayas, the waters of the west coast of France, the isolated Hawaiian island of Molokai… It's salt from more than 30 countries. Salt in flakes, rocks, and slabs; for grinding, curing, or cooking. In pink, grey, red, and more shades of white than there are Eskimo words for snow.
Fleur de Sel is one of the more common artisan salts, and the Meadow carries several varieties even within this category. They are salts created by the sun, wind and warmth evaporating sea water in the protected estuaries of western France. Even the names evoke romance: Fleur de Sel de la Guerande, de Camargue, de l'Ile de Re…
Like wine, where salt comes from affects its taste. And like wine, the finest quality has its time and place, obviously not necessary for every use. But when you start to taste, smell and see the differences, the plain old Morton's iodized table salt or kosher salt seem a little, well, boring.
If you feel like experimenting, check out the class The Meadow will be offering in January. It's all about Cooking with Himalayan Salt Blocks- Thursday, January 19th, from 6:30pm to 8 pm.
The Meadow
3731 N. Mississippi Avenue
Portland, OR 97227
Tel: 503-288-4633
Toll Free: 1-888-388-4633