FOOD NEWS
Greg Denton Leaving Metrovino
Husband-and-wife culinary team Greg Denton and Gabrielle Quiñonez Denton are leaving the Pearl District's Metrovino to open Argentine-inspired Ox Restaurant on Northeast MLK.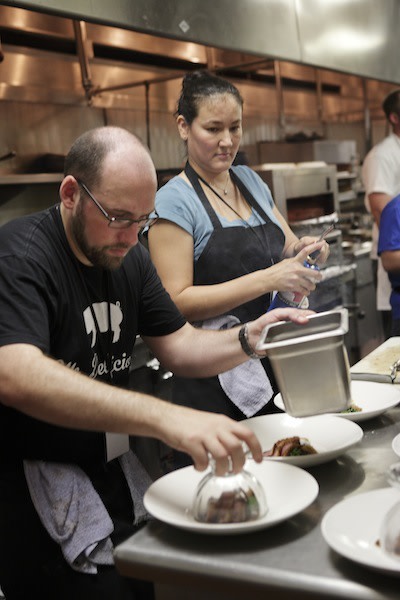 According to The Oregonian, Executive Chef Greg Denton and Chef de Cuisine Gabrielle Quiñonez Denton will be leaving the kitchen at Metrovino—the wine lover's dream they helped open in 2009—to launch their own eatery.
In the few years they've spent behind the scenes at Metrovino the couple has made a definite mark on Portland's culinary scene, combining French techniques, Northwestern ingredients, and a healthy dose of experimentation into an ambitious menu—and one hell of a charcuterie plate. They've also been having a banner year outside of the restaurant's kitchen, winning first place at the ultra-competitive Nicky USA Wild About Game chef showdown and snagging the title of Eater Portland's Chef of the Year.
And now, at the top of their game, the pair have set their sights on a new endeavor. Ox, their own Argentine-inspired restaurant in the former Echo restaurant space at 2225 NE Martin Luther King Jr. Boulevard, will serve up traditional Argentinian asado (grilled meats), grilled veggies, risotto, and abundant platters of sausage, bread, salad, and vibrant, flavorful chimichurri for sharing. The Argentine palate is virtually unexplored in the Portland food scene, and the flavors of the new menu have foodies-in-the-know wondering if and how Denton's modernist culinary leanings will be incorporated into traditional Argentine dishes.
No word yet on the pair's replacement at Metrovino, though Denton and Quiñonez Denton will stay on through February at the Pearl District eatery. Ox is expected to open in late Spring.