FOOD AND DRINK EVENTS
Holiday Beer and Booze
Two events for holiday tipplers to get you in gear for this month's eclectic festivities.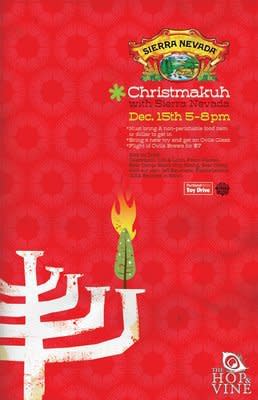 Embarrassing confession time: I loved The OC. Yes, that teen soap opera about wealthy brats in SoCal dealing with love, family, and substances to the soundtrack of up-and-coming indie bands. Mock me if you must, but you can't ignore one success of the show: The proliferation of Chrismukkah, a mash-up of Christmas and Hanukkah with "eight days of presents, followed by one day of many presents."
Whether you're into reliving the glory days of Harbor High or just want to try some good beer, you're in luck! Thursday, December 15th from 5 to 8 pm, the Hop & Vine (1914 N. Killingsworth) will host a Chrismukkah party with Sierra Nevada and Ovila, with 8 special seasonal beers and a chance to donate to the Portland Metro Toy Drive.
Beers on tap are set to include Life & Limb (a strong, dark beer brewed with maple syrup and naturally carbonated with birch syrup), Foam Pilsner (a German-style Pilsner brewed with European and American malts), Celebration (a dry-hopped seasonal ale), Black Hop Rising (a combo of German black lager—aka Schwarz bier—and American black IPA), Blackaliscious (aka Snowed in Stout, an Imperial Oatmeal Stout), and Ovila's Saison (a farmhouse ale layered with fruit and spice accents).
Entrance to the event is easy: just bring one non-perishable food item or a $1 donation to the Oregon Food Bank. You'll also get a free Ovila chalice (which looks like this) when you bring a toy for the toy drive.
Need another excuse for holiday drinking? Get ready for your own Chrismukkah party with Lincoln's Holiday Bar Camp! This installment of instructional events at Jenn Louis and David Welch's North Williams eatery will feature Christian Krogstad, distiller and owner of Portland's House Spirits. Learn how to stock you home bar, dive into the history of holiday cocktails, see how spirits are made, and get recipes for some unique holiday drinks, all before sitting down to a full family-style dinner at the restaurant (complete with cocktail pairings, naturally).
It's going down on at Lincoln (3808 North Williams Avenue #127) on Saturday, December 17th at 4:30. Tickets—including dinner and all drinks—are $125. Call 503-288-6200 to reserve your seat at the bar, and have an excellent Chrismukkah!