MENU WATCH
Menu Trend: Kale Salad
Portland chefs are making sure you get your servings of leafy greens by elevating this classic hippie dish to new levels.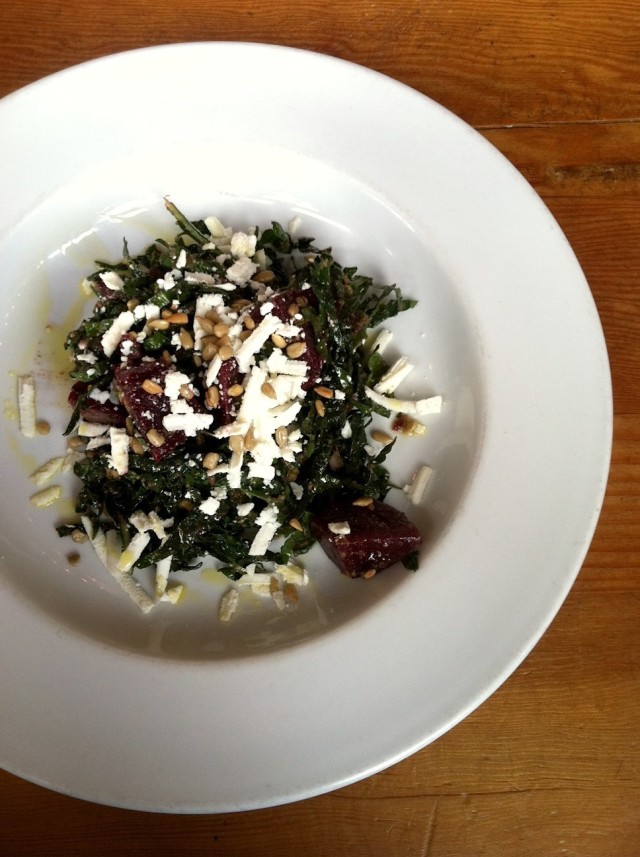 The Trend: No longer reserved for hippie kitchens and college potlucks, kale salad is moving up in the world. The leafy greens are popping up on menus throughout Portland, and they are holding up remarkably well against bold fall flavors.
What it is: We've all seen kale at the farmers' market in its various forms—large green or purple leaves that are broad or curly, with a strong stem running through the middle. Since most Portland restaurants source directly from Oregon farmers, they're likely using heirloom varieties of kale for their salads. To keep the bitter bite of the greens at bay, chefs cut out the tough core and slice the remaining leaves very thinly.
What they taste like: Kale boasts an earthy, slightly peppery flavor, and the hearty leaves pair well with fall flavors like blue cheese, squash, and carmelized onions. Leftover bonus: Kale is so sturdy that the salads don't really wilt over time, and they taste even better the day after.
Where you can find them:
- Northeast Killingsworth's Yakuza offers a Shaved Kale Salad topped with shallots, lemon, and fresh edamame ($6).
- Downtown's Grüner is combining whole grain farro, kale, julienned kohlrabi, carrots, radishes, chives, lemon cream, egg, and asiago cheese for a complex and delicate taste-of-fall salad ($10).
- Southeast Belmont's Roost fires the greens for their Grilled Kale Salad with roasted beets, blue cheese and a hint of horseradish ($10).
- Northwest Portland newcomer Oven & Shaker is serving up a Dinosaur Kale Salad tossed with poppyseed crisps, grapefruit, bread crumbs, pecorino, and an anchovy vinaigrette ($11).
- Southwest Stark's Clyde Common is doling out Tuscan Kale Salad (pictured above) with sunflower seed pesto, beets, scallions, and fresh ricotta salata ($7).
-Southeast Powell's German headquarters, The Berlin Inn, takes a cue from the ever-popular baked kale chips with their Crispy Baked Kale Salad. They dry bake their kale, drizzle it with garlic and lemon dressing, and topped the whole this with grilled red onions and crushed hazelnuts ($6.75).
-Down in Tigard, Bridgeport Village's vegan Native Foods Cafe has an entree-sized Crunchy Kale Salad tossed with apples, avocado, currants, almonds, and maple orange dressing ($8.95).
- At a recent wine pairing dinner, Olympic Provisions put a spin on a classic with their Kale Caesar topped anchovies and grana pandano. Consider this a request to put it on the regular menu!
See a dish trend or new ingredient on a menu in Portland and want to know more? Let me do the research for you. Email me at [email protected] or holler at me on Twitter at @allisonejones.