NEIGHBORHOOD NEWS
Eat Beat Neighborhood News
Two food news blips from around Portland, including the opening of NW's Bull Run Distillery and a fond farewell to NE MLK's Wayne's Chicago Red Hots.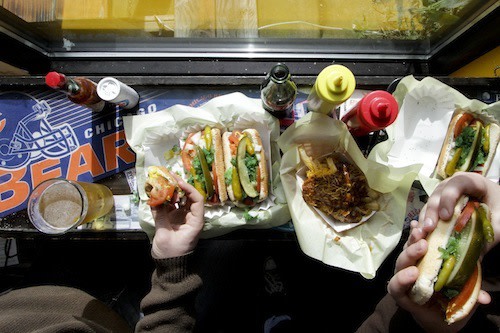 Industrial Northwest – Free booze? Now that's a gift in the holiday spirit—Northwest Portland's Bull Run Distillery is now open, and they're offering free tours and tastings of their signature vodka throughout the month of December (rum and whiskey are in the works for 2012). The new project from House Spirits founder Lee Medoff and partner Patrick Bernards can be found at 2259 NW Quimby Street. Cheers!
Northeast MLK – Cheap eats hot spot Wayne's Chicago Red Hots has closed, due to illness. It's a sad time for hot dog lovers in Portland who craved the authentic Chicago-style dogs (complete with florescent green relish) and garlic fries at 3901 NE Martin Luther King Jr. Blvd.
Got a food news tip? Send it my way at [email protected]!