MENU WATCH
Random Order Fried Pies
Random Order's flaky fried pies—filled with fresh fruit and topped with cinnamon sugar, available now at Boke Bowl and Violetta—are set to become this season's crave-worthy dessert.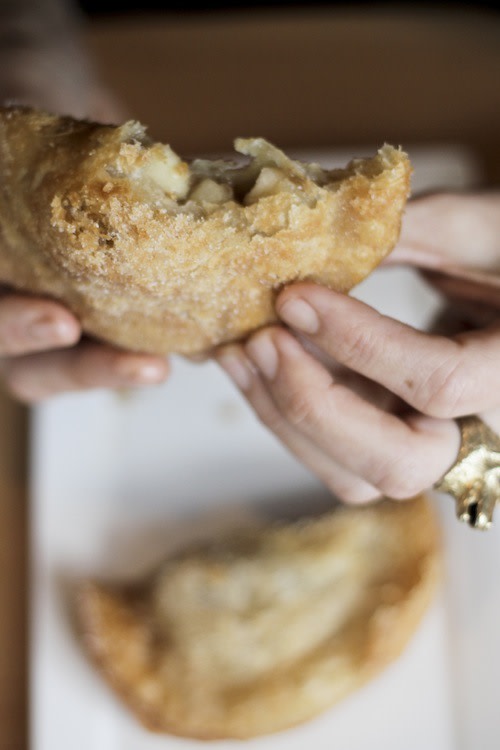 Forget what you know about pie. Is your memory sufficiently erased? Good, now we can start over.
Imagine a flaky folded pocket of crust. Now visualize it filled with slowly-cooked and delicately spiced Granny Smith apples. Now—here's where it gets good—throw it in a deep fryer, and when it's golden brown, douse it in cinnamon sugar. Welcome to Random Order's custom fried-to-order pies, available now at Violetta and the new Boke Bowl.
These hand-held pies are everything a fruit-filled crust should be, with the added benefit of, well, being fried. The collaboration between Random Order's owner Tracy Olson and Boke Bowl's Patrick Flemming and Brannon Riceci started simmering when the Boke Boys fell in love with Olson's pies at her NE Alberta coffee shop. The fried pies made a few guest appearances at Boke's pop-up restaurant events, and lucky for diners, the golden hand pies are now a regular feature on the Industrial District brick-and-mortar's menu.
The pies are currently available in Blue Ribbon Apple at both restaurant locations, but look forward to flavors like Ginger Peach, Rhubarb, and Flirty Berry in the future. The dessert gems are $4 at Boke Bowl and $5 at Violetta, so get 'em while they're hot.