New Year's Eve
Good Riddance 2011
Parties, parties, and more parties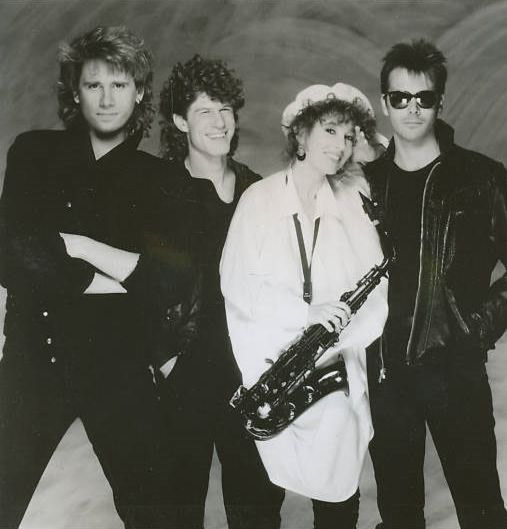 The time has come to bid another year adieu—and I think it's safe to say none of us are going to be too shy about sending 2011 off with a swift kick. However, like a pesky resolution we like to trot out the first few weeks of January, some of us constantly find ourselves at the last minute realizing we've neglected to figure out just what the heck we'll be doing with ourselves come December 31. Well, fret no longer! We here at Bar Pilot are more than happy to help you choose the best possible way to tell this year to go shove it. Below we've compiled a hefty list of goings-ons throughout the city that are certain to help you ring in 2012 with a lighter spirit and a heavier liver.
Quarterflash – 30th Anniversary Show
It's been three decades since one of Portland's most successful rock bands released its self-titled debut album, which yielded three Top 40 hits, making Quarterflash the state's first band to be certified platinum in the US and Canada. They've been around the world supporting the likes of Elton John, Sammy Hagar, and Rick Springfield, but they're celebrating at home this year to ring in the new year at the Aladdin Theatre. Lead singer and sax player Rindy Ross will be exhuming her wardrobe for outfits she wore during the group's first tour and the band will perform a slew of their greatest hits ("Harden My Heart", "Find Another Fool", etc.). They've also been working on a new record, so there should be some fresh material in the set. Aladdin Theater, 3017 SE Milwaukie Ave., 9 PM, $35-40
New Year's Eve with DJ Zimmie + The Love Loungers
Normally Portland's go-to locale for chest-cracking dubstep, the Crown Room will instead bring out the funk for the last party of 2011. Portland's newest DJ transplant and no stranger to the Crown, DJ Zimmie, and Groove-Hop masterminds The Love Loungers will keep the beats pumping all night long. Complimentary sushi buffet and midnight Champagne toast included with cover charge.
The Crown Room, 205 NW 4th Ave, 9PM, $10
Fourth Annual Two Beer Veirs New Year's Celebration
The lovely and tuneful Laura Veirs has outdone herself again this year, gathering a star-studded supergroup of area stars including Decemberists Nate Query, John Moen and Chris Funk, Black Prairie's Jon Neufeld and Annalisa Tornfelt. Members of Richmond Fontaine, Loch Lomond, Blind Pilot and Blue Giant also will jump in throughout the set all night long.
Laurelthirst Public House, 2958 NE Glisan, 8 PM, $25
McMenamins New Year's Eve w/ Reverend Horton Heat
Stuff that pack of American Spirits into your sleeve, polish up your coif with a little greasy kid stuff, and get set to percolate, because the Reverend is ready to preach. McMenamins is offering a large variety of overnight packages at all their hotel locations, including a stay at the Crystal Hotel with a special NYE performance by rockabilly legend Reverend Horton Heat. Overnight packages include lodging for two, a private cocktail reception and four-course plated dinner, admission to the Crystal Ballroom, sparkling wine midnight toast, and New Year's Day breakfast in the Zeus Cafe.
Crystal Hotel & Ballroom, 9 PM show, $25-30 show, $465-525 room package
21st Annual Champagne Ball
What would a New Year's Eve be without the longest-running party in Portland? Featuring four different party rooms and three dance floors occupied by 5 Guys Named Moe, DJ Sugar, and DJ Reckless. Multiple bars are available so you can spend more time showing off your robot dance skills and not waiting around in line. Hot and cold hors d'oeuvres and midnight pizza will be served to keep your party spirit properly nourished all night long. Complimentary glass of champagne to be served at countdown. A "No Jeans, Tennis Shoes or T-shirts" Dress Code will be heavily enforced. Really, you'd wear jeans to the ball? Get swanky! Proceeds benefit the Children's Cancer Association.
Grand Ballroom, Hilton Hotel, 921 SW 6th Ave., 8 PM, $89-119
Talkdemonic
Portland's own glitter-dripping, electro-pop duo Talkdemonic will be joined by Deelay Ceelay and Brainstorm to ring in the New Year at the Mission Theater. Featuring an overload of visual displays and eye candy along, exclusive NYE cocktails will be flowing all night long. At the midnight hour, DJ Freaky Outty mans the decks for some electric soul music, which should keep the feet moving till the wee hours.
Mission Theater, 1624 NW Glisan, 8 PM, $16-18
New Year's Eve Night Flight Orchestra
Get your sea legs in the New Year aboard the Portland Spirit cruise ship with music provided by Night Flight, a five-piece dance and show band playing hip hits and swing standards.
Portland Spirit Dock, Salmon St. Springs Fountain, 10 PM, $100 includes gratuity, Champagne, light hors d'oeuvres and boarding photo.
Storm Large NYE Concerts
Storm Large's roots in our fair city are, well, large. She made a name for herself as the unhinged front-woman for Storm and the Balls, starred in Portland Center Stage's production of Cabaret, and her autobiographical musical memoir Crazy Enough sold out for 17 straight weeks, and she even secured a spot as a touring member of Pink Martini. Every year, Ms. Large tips her hat in thanks to Portland with a NYE performance that blends sultry cabaret sass with boot-kicking rock. These shows sell out fast, so snatch up a ticket before it's too late.
Alberta Rose Theater, 3000 Northeast Alberta St., 7:30 & 9:45 PM, $65-75
New Year's Eve with Al Madrigal
If you're not in the mood to put on that sparkly dress, or heating up the iron to straighten a soiled shirt? This year, just skip the ridiculous cover charges and get wasted on laughter endorphins. The Daily Show's Senior Latino Correspondent Al Madrigal is performing two special NYE sets at Helium Comedy Club. The early show ticket includes complimentary appetizers and the late show a dessert buffet, champagne toast, and party favors.
Helium Comedy Club, 1510 SW 9th Ave., 8 PM & 10:30 PM, $25-50
Copacabana: A Latin Masquerade Gala
Not sure if you are more in the mood for a nice dinner out, or maybe a lively dance party? A visit to the Benson Hotel might be your best bet this year, as they're packing in three fantastic party choices. Copacabana is the theme as they transform the Mayfair Ballroom into one part Latin dance party, and one part masquerade ball featuring a Cuban-themed buffet and local jazz cats the Bobby Torres Ensemble providing the soundtrack. Or, hit up Palm Court for the pop-inspired Flamenco stylings of Toque Libre. The Benson also will be serving a special dinner in the London Grill for those in need of the feedbag before hitting up the festivities. Special guestroom packages include champagne split, event admission, dinner with preferred seating, complimentary masquerade masks and more.
Benson Hotel, 309 SW Broadway, Guestroom Packages from $339
80s Video Dance Attack NYE Party
Rock out with VJ Kittyrox to some vintage Duran Duran, Spandau Ballet, Thompson Twins, and more of the hits from the early days of MTV, complete with light show and music videos projected onto 10-foot screens for this special New Year's Eve edition of the popular weekly dance party. A nostalgia high is also hangover-proof!
Wonder Ballroom, 128 NE Russell St., 8 PM, $17-22