HOLIDAY EATS CHEAT SHEET
The Last-Minute Guide to NYE
What are YOU doing for New Year's Eve? If you still don't have an answer, we've got a guide for the procrastinating and spontaneous.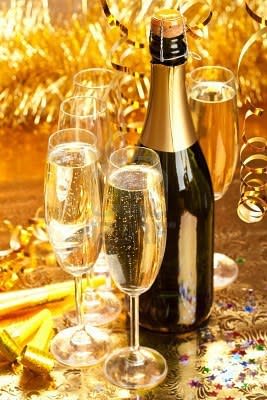 Portlanders are notorious for making last-minute plans. Maybe it's the weather, or maybe it's that we have so many great dining options every day that planning weeks out for a special event seems unnecessary. Whatever our excuses, chances are many of you still don't know what you're doing on the night of December 31.
To help out my planning-impaired brethren, I've checked in with some of Portland's top restaurants to see where you can still sneak in a last-minute reservation to ring in the New Year with a full belly.
Procrastinator's Tip: If you're the type to wait till the week after Christmas to make your New Year's plans, be prepared to dine early or late. Most restaurants with remaining reservations have spots at 5 and 10 p.m. seatings, so back up your dinner plans with post- or pre-dinner festivities.
Boke Bowl's 12-Hour Noodle Marathon is the perfect dinner for the ultimate procrastinators. Anytime between 10 a.m. and 10 p.m., hop down to the new industrial Southeast hot spot for a steaming bowl of ramen topped with fried chicken and oysters, and don't forget those Random Order fried pies. No reservations required!
Boke Bowl is located at 1028 SE Water Ave.
East India Co's New Year's Eve Indian Buffet will be offered at 5, 7, and 9 p.m. for just $27 per person. Fill your plate with bite-size samosas, yogurt and green salads, assorted tandoori kebabs, plenty of lamb and chicken stews, oven-baked rice, along with vegetarian and vegan dishes, too. Top the meal off with saffron-infused Indian rice pudding and homemade kulfi ice cream, and you're sure to head into the new year with a positive outlook.
East India Co is located at 821 SW 11th Ave. For reservations, call 503-227-8815.
Urban Farmer's New Year's Eve prix fixe dinner will feature four courses for $70, like Dungeness crab salad with tasso ham, seared scallops with butternut squash and apple vinaigrette, and 21-day dry-aged Painted Hills tenderloin with bleu cheese soufflé. Diners are welcome to head to the Atrium Lobby at 10 p.m. for beats from DJ Rev Shines. Make a night of it: Book a room at the Nines Hotel and head back to Urban Farmer in the morning for brunch (a $5 Bloody Mary bar is a great kickoff to 2012)!
Urban Farmer is located on the eighth floor of the Nines Hotel at 525 SW Morrison St. For reservations, call 503-802-4900.
Simpatica's New Year's Eve menu features caviar, oysters on the half shell, venison carpaccio, Maine lobster salad, beef Wellington with shaved foie gras, and plenty of Champagne. The five-course dinner is $75 per person and begins at 8 p.m. The dining hall is also featuring a New Year's Day brunch, if you're decadent enough to double-dip.
Simpatica is located at 828 SE Ash St. For reservations, call 503-235-1600.
Gilt Club's five-course NYE Menu features Wagyu beef tartare, foie gras torchon with sour cherry chutney, watermelon radish salad, lobster with potato gnocchi, tea-smoked duck breast, confit pork short-ribs, and a 20-ounce rib eye steak for two. Dinner is $75 per person (with cocktail pairings available) and DJ IZM will spin lo-fi, electronica, funk and soul from 9 p.m. to 1 a.m.
Gilt Club is located at 306 NW Broadway. For reservations, call 503-222-4458.
Biwa's epic nine-course, $55 kaiseki-style dinner (with $35 optional sake pairings) is set to feature sashimi of salmon, tuna, and salmon roe, smoked scallop, oyster rice, grilled pork with kimchi, and butterfish simmered with daikon and sake. Vegetarian options are available by request.
Biwa is located at 215 SE Ninth Ave. For reservations, call 503-239-8830.
Aviary's four-course prix fixe dinner is $65 per person, with an optional $35 wine pairing. Dine on Champagne-poached Tillamook Bay oysters with caviar, smoked artichokes, roast leg of lamb with Chinese sausage, and more. Choose your favorite dish for each course to customize your perfect last supper of 2011.
Aviary is located at 1733 NE Alberta St. For reservations, call 503-287-2400.
The Original's Disco New Year's Party is an after-dinner dance fest starting at 9 p.m, featuring a dessert buffet, two cocktails, plenty of platform shoes and polyester, and a midnight toast. Part of the proceeds from the event will benefit Ecotrust's Food and Farms Program.
The Original is located at 300 SW Sixth Ave. For reservations, call 503-546-2666.
Both Olympic Provisions locations will offer their own six-course, prix fixe menus on New Year's Eve for $65, with oysters, duck, and plenty of Olympic Provisions charcuterie.
Olympic Provisions is located at 107 SE Washington St and 1632 NW Thurman St. For reservations call 503-954-3663 (SE) or 503-894-8136 (NW).
Nostrana's four-course, $75 New Year's Eve dinner will feature salami and charcuterie, oxtail and celery root ravioli, roasted trout with wild mushrooms, beef braciola with gorgonzola cream, and an over-the-top gelato sundae with hazelnut brittle and chantilly cream.
Nostrana is located at 1401 SE Morrison St. For reservations, call 503-234-2427.
OK, you've waited long enough. Go make those reservations now, before the ball drops and it's too late. Happy New Year!