Best of the Year
2011 in Review
In which we praise recent developments.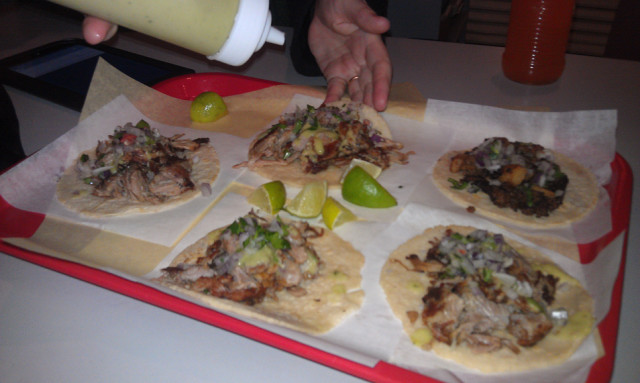 It's as inevitable as the dust that gathers around the new treadmill gifted to you by your significant other. You didn't honestly think that you'd escape early January without one of those pesky year-end lists from Team Bar Pilot, did you? Well, perish the thought, because we're about to sashay down memory lane with some of the drinks, eats, trends, and bars that, in my opinion, did things right in 2011.
Best Happy Hour: Gold Dust Meridian. For those of us concerned with making the best use of our time while assigned to duty on this here planet, Gold Dust Meridian's extremely generous happy hour (from 2-8 daily) is reason for a ticker-tape tango. You certainly owe it to yourself to unwind with a smoky Meridian Manhattan (Rittenhouse Rye, Peychauds bitters, brandied cherries, $8) and the Trio, a crusty grilled-cheese sandwich, tomato soup, and salad for a measly six bucks.
Best Cheap Eats: Robo Taco. I never, ever thought I would get carnitas (braised pork) tacos that were superior to those provided by taco wagon Lindo Michoacan at SE Division and 33rd. Robo Taco, a recently opened taqueria on SE Morrison, has accomplished this feat. With their diabolically deceptive heat, crispy finish, and depth of spice, these $2 tacos are best ordered by the dozen. The posole, a rich pork and hominy soup, is like the Mexican version of pho, a hearty bowl of steaming comfort that blossoms in flavor with the addition of house hot sauces. Bonus! It's open till 3:30 in the morning on weekends! I envy anyone who's yet to explore the Robo Taco menu.
Most Welcome New Cocktail Bar: Rum Club. The seriously high level of skill and craft present in top-notch tropical refreshers like the Serpent & the Rainbow (Bacardi 8 &
Flor de Caña Rum, pineapple syrup, apricot, and lime) and the downright delightful Ti' Punch (J.M. Blanc Rhum, turbinado sugar, and lime) makes this cozy little joint a required stop, one that's a bit more accessible than the thatch-heavy Disneyland that is Trader Vic's.
Most Welcome New Beer Bar: Bazi Bierbrasserie. Sorry, I'm showing some favoritism for my 'hood on this one. Co-owners Eric Bottero and Hilda Stevens have not only been knocking it out of the park with genuine hospitality, hustle, and some 17 taps dedicated to Belgian-style beers, but their innovative beer cocktails like the Hepburn (Stoli Vanilla, Grand Marnier, Delirium Nocturnum, orange bitters, and a splash of champagne, served up) are not to be missed. And the French fries are rapturously crunchy twigs of salty joy.
Best cocktail: The barrel-aged Negroni at Clyde Common. Ordinarily, a Negroni is just a shade too bitter for my tastes, but aging the ingredients (gin, Cinzano sweet vermouth, Campari, orange peel) in Tuthilltown whiskey barrels for a couple of months works wonders, sculpting the sharp edges of the Campari into something altogether more expansive and glorious. I had several intriguing mixed drinks this year, but I returned to this one on several occasions, and I'm glad that I did.
In conclusion, it does my heart good to see a spirit of fearless exploration so present and pervasive in Portland—whether it's beer cocktails, the aging spirits, or those stunningly sour beers, our preponderance of good press is proof that tastemakers throughout the nation look to us for inspiration. Your turn, drinking buddies: Let me know if you experienced any breakthrough moments with drinks, food, happy hours, service, atmosphere during the previous 12 months. I need to know these things!