INTERVIEW
5 Questions for Blue Collar Baking's Warren Becker
With a new sweet shop in the works across the street from SW Third's Stumptown, this passionate baker is set to bring simplicity back to Portland's pastry scene, one working-class cookie at a time.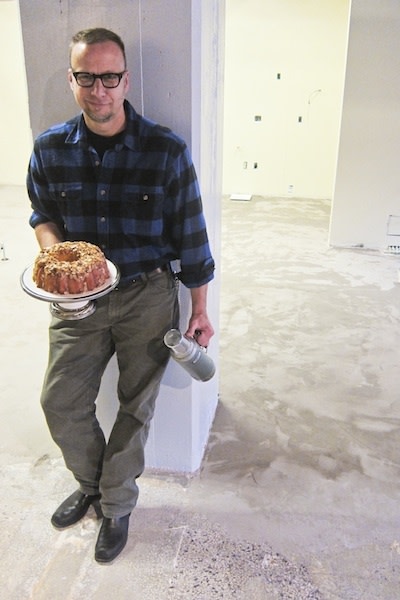 It's not hard to see why Warren Becker named his cookie-and-cake operation Blue Collar Baking. As the son of two working-class, union member parents in Milwaukee, Wisconsin, Becker has hard work, humility, and Main Street in his genes.
Dad worked at the American Motors factory, and Mom spent her days behind the counter at the local grocery store where she'd sneak her son plenty of sugar cookies. Decades later, he's returned to his roots to make some truly delicious sweets for the City of Roses.
While working for Red Cross and other nonprofits, Becker picked up baking as a hobby (no doubt inspired to replace the Oreos and Nilla Wafers offered to blood donors). After his more-than-willing tasters at work encouraged him to keep bringing in the treats, he started baking out of his home kitchen full time and selling his wares at local farmers' markets, all the while looking for a place to set up shop permanently.
Becker was able to score a spacious, light-filled location across the street from SW Third's Stumptown coffee, attached to the lobby of the Embassy Suites on Third and Pine. He's still in build-out mode, and is planning for success—his kitchen will be large enough that he won't have to worry about expansion, and the 25-seat dining space will offer diners plenty of room to spread out and enjoy his cakes, cookies, and scones. The shop will be serving up Water Avenue Coffee and plans to be open for the morning rush, the Downtown lunch crowd, and after-work snackers looking for a pick-me-up before hoping on the Max.
The spot is scheduled to open mid-February at 319 SW Pine Street, and I'll have photos of the space as soon as it's finished. In the meantime, I sat down with Becker—and some beautiful bundt cakes—to get the behind-the-scenes scoop on his new bakery, his cravings for frosting, and his view of Portland as a Blue Collar town.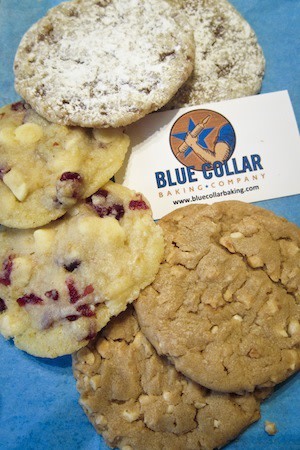 1) Let's talk about the name—why Blue Collar Baking?
I had a true working-class upbringing, and I do consider Portland a Blue Collar town. We used to have the big breweries and factories that employed tons of work-a-day folks, we certainly have a DIY culture here, and we're just not fancy. So, my bakery isn't going to be fancy. Just butter, flour, sugar, and some of the "good stuff." I don't do croissants, I don't do gallettes. There are amazing places in Portland that do offer that stuff, I'm just hoping to offer really great coffee and a treat.
2) What will you be serving?
Our line include cookies like the Lunch Whistle with cranberries, white chocolate, and orange zest, the peanut butter Jackhammer, and the Big Rig, an oatmeal butterscotch cookie laced with cinnamon. All the cookies cost a buck, because that's what cookies should cost. We'll also have mini bundt cakes for around three bucks, scones, gift boxes, and cookie platters for meetings. I always try to keep my price point low, because I'm using simple, fresh ingredients and I like to pass on the value to the customer.
3) Your mom worked at the bakery counter in the local grocery store. How did this inspire your love of sweets?
I've always had a sweet tooth. It was my childhood fantasy to have a cake made entirely of frosting. I kept asking my mom for that, every birthday, but she'd tell me it just didn't exist. My guilty pleasure now is that—whenever I go out with my friends—I make sure I leave the bar early, because my local Safeway closes at one in the morning. They sell these individual cake slices for two dollars and fifty cents, white cake with about an inch thick of frosting… I take it home, and I eat it in bed. I feel dirty and satisfied at the same time.
4) Which (non-Safeway) bakeries around town have inspired your own baked goods?
There's a tiny little bakery called Florio on MLK and NE Rosa Parks, and she does this incredible crystallized ginger scone. It's so wonderful. I know a lot of people are skeptical about Papa Haydn, but they make the best chocolate cookie in town. I go to bakery after bakery trying everything they've got, and Papa Haydn's cookie always comes out on top. I don't do cupcakes because of Saint Cupcake. I think their product is so good, I'm not even going to try to compete. When people call me asking for cupcakes, I say no, because Saint Cupcake can do it better. I'm really, really good at bundts, though.
5) Tell me a bit about the bakery's slogan—"We're not afraid of butter!"
When I was selling at the farmers' markets, people were always asking me which products were gluten free and which were vegan. I have neither. In Wisconsin, margarine used to be illegal—because we were "America's Dairyland". We'd literally have to drive to Illinois to buy margarine, so I definitely grew up with the real stuff. Margarine was a novelty, like putting plastic over your couches—at the time they seemed like great ideas, but now I wonder what we were all thinking.