Cart Culture
Cart Grub, Delivered
The next trend in mobile eating? Food cart food to-go, delivered to you home or office.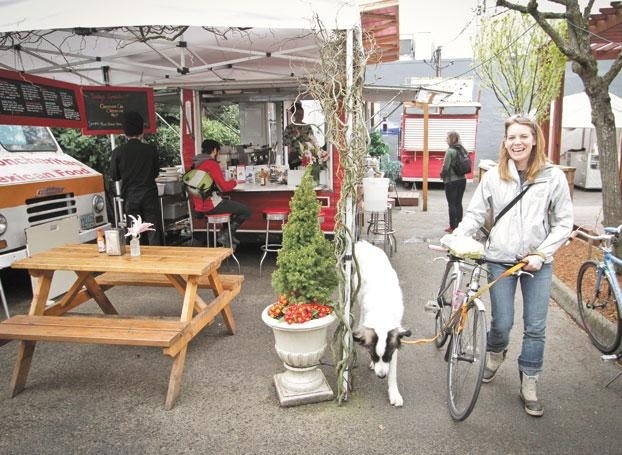 Last week brought the news that Nong Poonsukwattana of Nong's Khao Man Gai has launched a delivery service to bring her popular Bangkok dishes directly to diners around town—meaning we officially have a trend on our hands.
To get Nong's signature chicken-and-rice dish at your office desk without having to brave the cart pod crowds, diners must order 48 hours in advance and team up with some other hungry mouths—the minimum order is $30.
Another new delivery option is Pegasus Delivery, founded by Reed alumna Naomi Dickerson, which is bringing mobile meals from Good Food Here and Cartlandia (on SE 82nd and Springwater) to doors throughout Southeast Portland. That means meals from Lardo, EuroTrash, Cackalack's, The Deadliest Catch, and the London Pasty Co. delivered to you, when you want them. With a reasonable fee—$3 per order plus $1 for every ten bucks over $10—and credit cards accepted, this is a great option for folks bound to their desks or homes for meal times (or those who just don't want to stand in the rain). Pegasus is expecting to expand to Downtown delivery this year, so stay tuned.
Portland food cart delivery isn't a completely new phenomenon—see Portland Pedal Power, delivering grub by bike for the past few years—but with the rate that to-your-door options are appearing, more and more people are bound to jump on the bandwagon, and we won't complain.