MENU WATCH
Departure's Vegan Menu
Chef Gregory Gourdet puts a animal-free spin on his Asian-inspired cuisine with the debut of a plant-based menu. The result? A true departure from typical vegan offerings.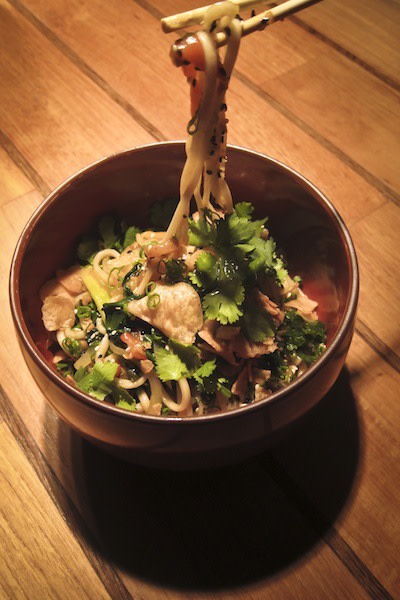 Departure's menu has long been accommodating to special requests and dietary restrictions. The kitchen has offered a gluten-free menu by request for a year, the restaurant played host to an all-star collaboration of vegan chefs at their Summer's End Vegan Dinner last year, and the kitchen is more than happy to cater to the ever-shifting desires of the Portland palate. With the debut of Chef Gregory Gourdet's new stand-alone Vegan Menu, this sexy space at the top of the Nines Hotel just got even more Allergy Pride Parade friendly.
The plentiful menu is divided into several sections, including Salads, Sushi, Dim Sum, Chefs Recommendations, and Wok Fried. Overall, the tastes are light and fresh, with a healthy dose of flavors you'd usually associate with guilty-pleasure Chinese take-out—which is definitely a compliment.
Menu Standouts: The Spicy Carrot and Avocado Salad with pickled cucumbers and sourdough croutons could change the way you think about root vegetables—baby carrots (actual young carrots, not those abnormally rounded kids snacks) are tossed in a sweet and sour vinagrette and paired with creamy avocado for a delicious starter. A big bowl of the Vegetable Udon (pictured above) will satisfy any noodle-lover's cravings, and a plentiful serving is packed with roasted peppers, spinach and ginger. For curry lovers who are sick of asking servers to hold the fish sauce, Departure's Golden Curry with sweet and sour mango and spiced cashews will definitely hit the spot.
Some more crave-worthy dishes are found in the Wok Fried portion of the menu, like the heavenly Brussels Sprouts with individual leaves of the little cabbages tossed in chili, lime, and mint and the Chili Tofu with candied walnuts and hearts of palm in a sweet and spicy sauce. Kimchi Fried Rice and Sweet-Soy Green Beans with peanuts are also solid selections.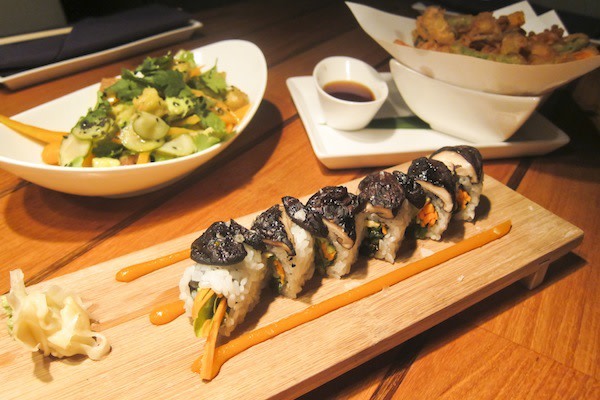 Sushi Without the Fish: For those avoiding raw fish for health reasons or personal preference, trips to a sushi bar are typically limited to cucumber rolls or a bowl of miso soup. Not so at Departure, where the vegan sushi selections include the Grilled Shitake Roll with scallions, avocado, butter lettuce, and a sweet-and-spicy carrot sauce. The mushrooms are smoky and savory, setting a new standard for fish-free sushi. Other favorites include the Ume Shiso Roll with pickled plums, cucumber, and jalapeno, and the Sweet Potato Tempura Roll, which makes use of Departure's addictive vegetable tempura for a sweet crunch accented by flavors for ginger and spicy miso.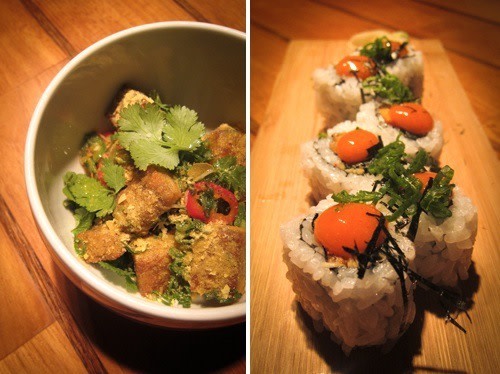 This menu proves to be a hit for vegans and omnivores alike, packing fresh flavors and brilliant colors that are as seductive as the view from the restaurant's windows.
Departure Restaurant + Lounge 525 SW Morrison St; 503-802-5370