NEIGHBORHOOD NEWS
Eat Beat Neighborhood News
Top food news stories from around Portland, including a chef shuffle at Central, dinners to go in Milwaukie, and a temporary closure and redesign for Meriwether's.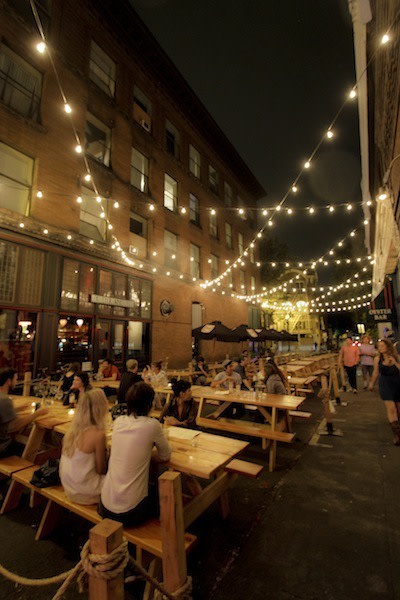 Southwest
SW Ankeny: According to the Willamette Week, chef Jake Martin has left Old Town's Central to take over the kitchen at Seattle's How to Cook a Wolf (an Ethan Stowell project). Central's kitchen will now be manned by chef Aaron Crane (who spent time in the kitchen at Paley's Place).
Southeast
E Burnside: Popular late-night sweet spot Alder Pastry and Dessert has closed after only 10 months in business (2448 E. Burnside St). Chef and owner Matthew Zack has yet to announce future plans for himself or the space.
E Burnside: The Oregonian reports Foti's Greek Deli (1740 E Burnside St) has closed after 30 years in business, but this shutter story has a happy ending. Foti and Jill Kosmas have decided to retire but will hand over the space to their nephew (owner of Mad Greek Deli). Expect a redesign that will court a new audience, but fans of Foti's will find a lot to love about the new menu (which will be inspired by the Kosmas family cookbook).
Northeast
NE Glisan: Local developer Kevin Cavenaugh is working on a mixed-use site for mini brick-and-mortar restaurats (think halfway between food cart and full-grown restaurant). According to the Daily Journal of Commerce, a vacant building at NE Glisan and Sandy will become a home for Pie Spot (currently parked at D-Street Noshery) and a micro-eatery from Slow Bar owner Rob Hemmerling based on the bar's ridiculously good burger, among others.
Northwest
NW Vaghn: Meriwether's Restaurant (2601 NW Vaughn Street) and Skyline Farm will temporarily close from January 1st through February 11th to completely re-design and build a new kitchen. They'll be adding a second kitchen line, installing a new larger wood-fired pizza oven, and upgrading their kitchen equipment that will double the output capacity. The restaurant is slated to re-open on Sunday, February 12th.
North
Eliot Neighborhood: New Seasons Market has announced the location of its next store, set to open on the corner of North Williams and NE Fremont in 2013. The 30,000 square-foot grocery store will occupy part of the three-acre site formerly home to Interstate Bakeries. This will be New Seasons' thirteenth location since opening its first store in 2000.
'Burbs
Milwaukie: Milwaukie Kitchen has launched their promised Dinners To Go program (10610 SE Main Street; Milwaukie, Oregon). Bring chef-prepared dishes home, like roasted leg of lamb marinated in harissa and rosemary, vegetarian Shepherd's Pie with "melted leeks", and Pacific codfish cheeks with mussels in tomato saffron broth. Full menu and ordering instructions can be found here.
Got a food news tip? Send it my way at [email protected]!