FOOD AND DRINK EVENTS
Eat Beat Weekly Planner
Our digest of Portland's top upcoming food and drink events, including Breakside Brewery's dinner at Aquariva, Chocolates for Choice, and a Chinese New Year celebration fit for a foodie.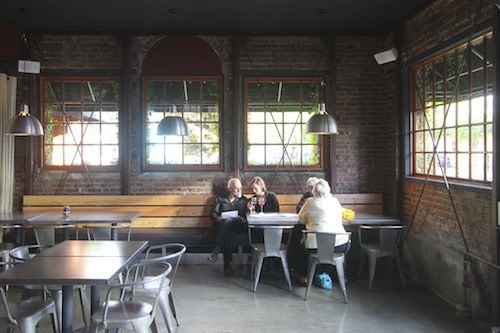 Crab Night at Bar Avignon
What: Bar Avignon owners Nancy Hunt and Randy Goodman and their new chef Eric Joppie are bringing back their popular crab night. The dinner will feature whole and half Dungeness crabs, sides like fennel citrus slaw or broccoli rabe with linguiça, and plenty of winter wine favorites.
When: Wednesday, January 25, from 5 pm till supplies run out.
Where: Bar Avignon 2138 SE Division; 503-517-0808
How Much: Whole crab $24, half crab $13; Side prices $6-$7.
Departure Chinese New Year Celebration
What: Welcome the Year of The Dragon with a multi-course kaiseki menu and signature cocktail pairings. The menu's dishes—like crispy pork dumplings, hot and sour soup, and sallion-steamed cod—represent the wishes of luck, wealth, longevity and a rich sweet sweet life.
When: Friday, January 20th through Saturday, January 28th.
Where: Departure Restaurant + Lounge 525 SW Morrison St; 503-802-5370
How Much: $45 per person, for information call 503-802-5370 or head to
their website.
Breakside Brewery Dinner at Aquariva
What: The Southwest Waterfront's top Italian dining destination will host Northeast Portland's Breakside Brewery for a four-course meal paired with signature brews. Dig into wild boar sugo, polenta, and fried pig ears, and sip the restaurant's own special collaboration brew, paired with a poached albacore tuna.
When: Friday, January 20.
Where: Aquariva 0470 SW Hamilton Court.
How Much: $45 per person, includes beer and nosh. For reservations, call 503-802-5850.
Pacific Pie Company's First Annual Pie Contest
What: In celebration of National Pie Day, Pacific Pie Co. will be hosting a Pie Contest, judged by Jen Stevenson (author of 100 Best Places to Stuff Your Faces), Joel Weiler (blogger at MakeMeSomePie.com), Chris Hertel (farmer at SunGold Farm in Forest Grove), and Kate Withiam (Pacific Pie Co Pastry Chef). Winners in both sweet and savory categories will be featured on Pacifc Pie Co's menu in February.
When: Sunday, Janurary 22 at 1 pm
Where: Pacific Pie Co 1520 SE 7th; 503-381-6157
How Much: Free to enter. To register, email [email protected]
Zukuski Dinner at The Bent Brick with Bull Run Distillery
What: First in a series of monthly spirit dinners at the Bent Brick, this exciting event will pair plenty of creative Russian-stule small plates (think marinated veggies and fish) with toast after toast of winter spice-infused Bull Run Distillery spirits. A perfect way to celebrate the coldest days of winter. Chef Scott Dolich and Master Distiller Lee Medoff will be on hand to answer questions and ramp up the revelry.
When: Monday, January 23rd at 6 pm.
Where: The Bent Brick, 1639 NW Marshall St.;
How Much: $35 per person, including food and drinks. For reservations, call 503-688-1655.
NARAL's Chocolates for Choice
What: Sample chocolate confections from 15 local bakeries and dessert vendors, including Mother's, Cacao Drinking Chocolate, Saint Cupcake, Salt and Straw, The Meadow, Crema Bakery and more. There will be a judging panel of local foodies in the know, and it'll be a perfect primer for V-day presents of the chocolate variety (as well as a celebration of the 39th anniversary of Roe v. Wade).
When: Thursday, January 26 from 6 to 9 pm
Where: Ford Food & Drink, 2505 SE 11th Avenue, Suite #105
How Much: $20, including desserts and a cocktail. Order early here and get free wine all night long.
Know about a great event coming up that should be on our radar? Shoot me an email at [email protected] or give me a shout over on Twitter at @allisonejones. Now get out there and start eating!