FOOD AND DRINK EVENTS
Eat Beat Weekly Planner
Our digest of Portland's top upcoming food and drink events, including an Indigneous Italian varietal wine tasting and a date change for the Bull Run Distillery Zukuski Dinner at The Bent Brick.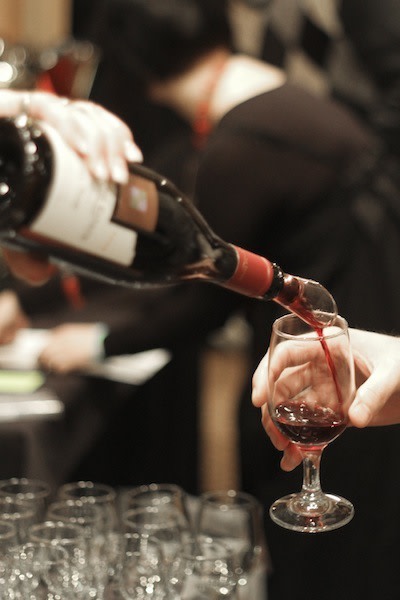 Chinese New Year Menu at Ping
What: A six-course menu for two celebrating the Year of the Dragon. Enjoy a family-style service with drink pairings, including pork-filled steam buns, pork meatball skewers, Chinese tea eggs, and beer-braised tilapia with sugar, garlic, ginger, chilies, scallions and tomatoes.
When: Dinner from January 20th to February 11th.
Where: Ping; 102 NW 4th Avenue.
How Much: $65 dinner for two, $100 dinner for two with drink pairings. For reservations, call 503-229-7464.
Departure Chinese New Year Celebration
What: Welcome the Year of The Dragon with a multi-course kaiseki menu and signature cocktail pairings. The menu's dishes—like crispy pork dumplings, hot and sour soup, and sallion-steamed cod—represent the wishes of luck, wealth, longevity and a rich sweet sweet life.
When: Friday, January 20th through Saturday, January 28th.
Where: Departure Restaurant + Lounge 525 SW Morrison St; 503-802-5370
How Much: $45 per person, for information call 503-802-5370 or head to
their website.
Crab Night at Bar Avignon
What: Bar Avignon owners Nancy Hunt and Randy Goodman and their new chef Eric Joppie are bringing back their popular crab night. The dinner will feature whole and half Dungeness crabs, sides like fennel citrus slaw or broccoli rabe with linguiça, and plenty of winter wine favorites.
When: Wednesday, January 25, from 5 pm till supplies run out.
Where: Bar Avignon 2138 SE Division; 503-517-0808
How Much: Whole crab $24, half crab $13; Side prices $6-$7.
Zukuski Dinner at The Bent Brick with Bull Run Distillery
What: First in a series of monthly spirit dinners at the Bent Brick, this exciting event will pair plenty of creative Russian-stule small plates (think marinated veggies and fish) with toast after toast of winter spice-infused Bull Run Distillery spirits. A perfect way to celebrate the coldest days of winter. Chef Scott Dolich and Master Distiller Lee Medoff will be on hand to answer questions and ramp up the revelry.
When: DATE CHANGE: Monday, January 30rd at 6 pm.
Where: The Bent Brick, 1639 NW Marshall St.;
How Much: $35 per person, including food and drinks. For reservations, call 503-688-1655.
NARAL's Chocolates for Choice
What: Sample chocolate confections from 15 local bakeries and dessert vendors, including Mother's, Cacao Drinking Chocolate, Saint Cupcake, Salt and Straw, The Meadow, Crema Bakery and more. There will be a judging panel of local foodies in the know, and it'll be a perfect primer for V-day presents of the chocolate variety (as well as a celebration of the 39th anniversary of Roe v. Wade).
When: Thursday, January 26 from 6 to 9 pm
Where: Ford Food & Drink, 2505 SE 11th Avenue, Suite #105
How Much: $20, including desserts and a cocktail. Order early here and get free wine all night long.
Indigenous Italy Wine Tasting at Cork
What: Educate yourself as you sip five reds featuring some of the indigenour grape varietals growing in Italy. This tasting will serve as an introduction to Marzemino, Pelaverga, Nero di Troia, Schioppetino, and Piedirosso.
When: Friday, January 27 from 4 to 7 pm.
Where: Cork Bottle Shop 2901 NE Alberta: 503-281-2675
How Much: $12 tasting fee.
Patton Valley Vineyards Winemaker Dinner at Bluehour
What: A five-course pairing menu. Winemaker Derek Einberger and Chef Thomas Boyce will be on hand to discuss the dishes, wines, and more. Courses are set to include smoked trout with caviar, seared Maine diver scallops (paired with 2009 Wente Clone Chardonnay), Striped Bass with blood sausage (paired with 2009 Willamette Valley Pinot Noir), Sudan Farms Lamb two ways (paired with 2009 Lorna Marie Pinot Noir), and much more.
When: Saturday, February 11 at 6:30 pm.
Where: Bluehour's Private Dining Room:
How Much: $100 per person including food and wine. Gratuity not included. For reservations, call 503-226-3394.
Know about a great event coming up that should be on our radar? Shoot me an email at [email protected] or give me a shout over on Twitter at @allisonejones. Now get out there and start eating!