FOOD AND DRINK EVENTS
Eat Beat Weekly Planner
Our digest of Portland's top upcoming food and drink events, including 2012 Portland Meat Collective classes, educational wine tastings, and a chance to "Meet the Producer" at Salt & Straw.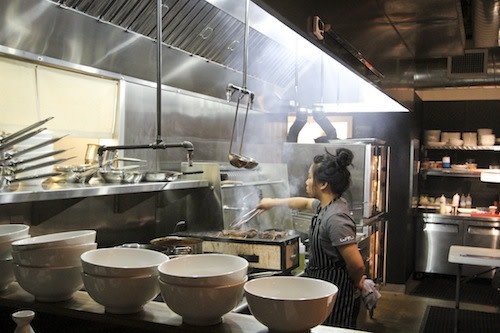 This week's event roundup is full of fooducational good times. Yes, I just made that word up, but it's appropriate for this month's happenings which are less ten-course feast and more hands-on learning experiences for the foodie who wants to know more about their eats and drinks in 2012.
Salt & Straw's Meet the Producer Series
What: An informal meet-and-greet featuring the folks behind the ingredients in Salt & Straw's most popular ice cream flavors. Ask Mark Bitterman of The Meadow about his artisan-made finishing salts, try every oil from the Oregon Olive Mill at Red Ridge Farms, and sip wines from the Willamette Valley's Argyle Winery. Each event features free ice cream and plenty of fun.
When: Saturdays in January starting at 1 pm. Mark Bitterman, January 14. Red Ridge Farms Olive Oil, January 21. Argyle Wine Tasting, January 28.
Where: Salt & Straw Scoop Shop; 2035 NE Alberta Street
How Much: Free!
Portland Meat Collective's January Classes—Sausage Making and Basic Pig Butchery
What: Join the Portland Meat Collective for two January classes that will change the way you look at a deli case. First up, Sausage Making will introduce students to the art of making French, German, Spanish, and Italian sausages. Benjamin Meyer of Grain & Gristle and Camas Davis (founder of PMC) will show you how to pick out the right cuts of meat, show you how to grind, flavor, and stuff your own links. The month's second class, Basic Pig Butchery, will show you everything you need to know about splitting a hog. Both classes will provide students with their own share of meat to freeze and use through the winter.
When: Sausage Making will take place on January 18 from 5 to 8 pm; Pig Butchery will take place on January 22 from 3 to 7 pm.
Where: TBA, contact [email protected] for more details.
How Much: Sausage Making, $125 (class limited to 10 people). Pig Butchery, $225 (limited to 12 students). For reservations, email [email protected].
Red Ridge Farms Chardonnay Seminar and Tasting
What: An educational and fun chardonnay seminar and tasting event hosted by Erica Landon, wine director of the Heathman Restaurant & Bar, the Bruce Carey Restaurant Group, and Walter Scott Wines (and the first woman in Oregon to have earned the title of Advanced Sommelier). Soak in Landon's extensive knowledge surrounded by the beautiful grounds of Red Ridge Farms in Dayton, Oregon, and nibble on appetizers while you sip and savor what makes a signature Oregon chardonnay.
When: Saturday, January 21, from 1 to 3 p.m.
Where: Red Ridge Farms, 5510 NE Breyman Orchard Rd, Dayton, OR.
How Much: $20 per person, for reservations call 503-864-8502 or visit www.redridgefarms.com.
Meet Randall Grahm of Bonny Doon Wines at Liner & Elsen Wines
What: James Beard Award-winner author Randall Grahm of irreverent Bonny Doon fame will be on hand to pour his wines and sign his book, "Been Doon So Long." The book includes several decades worth of Grahm's infamous satires, jokes, and puns from the winery's newsletters and publications.
When: Monday, January 30 from 6:15 to 7:30 p.m.
Where: Liner & Elsen 2222 NW Quimby St., 503-241-9463
How Much: $5 glass fee. No reservations necessary!
Wafu's Extended Hours
What: Chef Trent Pierce has announced extended hours at Wafu—one of Portland Monthly's Best Restaurants of 2011. The late-night ramen spot on SE Division will now offer its full dinner menu until 11 pm, seven days a week.
When: 5 to 11 pm, seven days a week.
Where: Wafu 3113 SE Division Street; 503-236-0205
How Much: For full menu, check out wafupdx.com
Oven and Shaker Debuts Late-Night Happy Hour
What: Cathy Whims' Pearl District pizza and gourmet fried foods eatery has launched a late night happy hour from 10pm to midnight, seven days a week. Specials will change weekly, and current selections include $6 Nostrana Salad, $7 Margherita Pizza, and a $10 Wild Fennel Sausage Pizza with potato, tomato, chilies, scallions, and smoked mozzarella. Satisfy your sweet tooth with house made gelato and sorbetto or a Tuscan Brownie Sundae with vanilla gelato, whipped cream, chocolate sauce, and an Amarena cherry.
When: 10pm to midnight, seven days a week.
Where: Oven and Shaker NW Everett Street; 503-241-1600
How Much: Prices vary. For full Happy Hour Menu, visit ovenandshaker.com
Know about a great event coming up that should be on our radar? Shoot me an email at [email protected] or give me a shout over on Twitter at @allisonejones. Now get out there and start eating!