FOOD AND DRINK EVENTS
Eat Beat Weekly Planner
Our digest of Portland's top upcoming food and drink events, including an art show featuring the work of Voodoo Doughnut employees and the next Vegetarian Feast at Beast.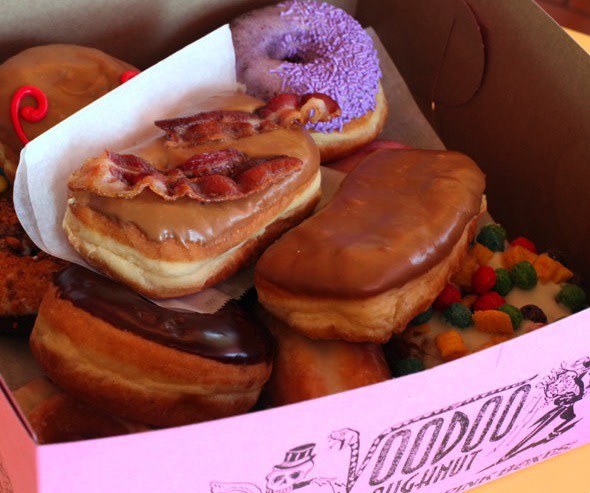 If you're looking for Love Day events, stay tuned for our full run-down of Valentines Dinners and sweet treats later this week. For other swoon-worthy suppers, check out this week's listing of sips and nosh, party-style.
First Annual Voodoo Doughnut Employee Art Show
What: Voodoo Doughnut will be celebrating eight years of tourist-baiting with their showcase of employee art and music. Featured artists include Kevin Waterman, Mike Nelson, collagist Dave Drexler, photographer Alex Dramlin, Alicia Ruiz and many more. Bonus: Live Band Karaoke!
When: Thursday, February 2nd through February 28th (Opening reception Thursday, February 2nd from 5 to 10 pm)
Where: Berbati Restaurant 19 SW 2nd Ave; 503-226-3343
How Much: Free
Vegetarian Dinner at Beast
What: The next round of meat-free feasting at Northeast's hottest little eatery is scheduled, and the menu is set to feature crispy yellow beets and chervil, truffled goat cheese raviolo, white bean tartlettes, citrus cream cake and more. These dinners sell out fast, so make your reservations ASAP.
When: Tuesday, February 21st; Seatings at 6 and 8:45 pm.
Where: Beast 5425 Northeast 30th Avenue
How Much: $100 per person (including all food and wine pairings). For reservations, call 503-841-6968.
Momokawa Saké Supper Club at Wildwood
What: First in a series of Oregon craft saké pairing dinners, featuring sips from SakéOne in Forest Grove and nibbles from . Each chef was told to avoid the typical Asian fare and get inspired with new flavor combinations, so Chef Dustin Clark of Wildwood will pair these local sips with his hyper-local Northwest Cuisine. The next dinners in the series will feature dishes from Andina and Saucebox.
When: Friday, February 24 at 7 pm.
Where: Wildwood Restaurant 1221 NW 21st Ave; 503-248-9663
How Much: $55 per person, including food and saké.
Portland Food Adventure at Gilt Club, with Lardo
What: Next up in the popular Chef's Choice dinner series from Portland Food Adventures, an interactive multi-course meal with chefs Chris Carriker of NW Broadway's Gilt Club and Rick Gencarelli of crave-worthy cart Lardo. Diners will enjoy the decadent eateries' signature flavors and chat with the chefs about their favorite Portland restaurants and bars.
When: Wednesday, February 29 at 6:30 pm.
Where: Gilt Club 306 NW Broadway
How Much: $125 per person, including dinner, cocktails & wine, tip, and gift certificates to some of the two chefs' favorite Portland places. For reservations, head to the PFA website.
Patton Valley Vineyards Winemaker Dinner at Bluehour
What: A five-course pairing menu. Winemaker Derek Einberger and Chef Thomas Boyce will be on hand to discuss the dishes, wines, and more. Courses are set to include smoked trout with caviar, seared Maine diver scallops (paired with 2009 Wente Clone Chardonnay), Striped Bass with blood sausage (paired with 2009 Willamette Valley Pinot Noir), Sudan Farms Lamb two ways (paired with 2009 Lorna Marie Pinot Noir), and much more.
When: Saturday, February 11 at 6:30 pm.
Where: Bluehour's Private Dining Room:
How Much: $100 per person including food and wine. Gratuity not included. For reservations, call 503-226-3394.
Know about a great event coming up that should be on our radar? Shoot me an email at [email protected] or give me a shout over on Twitter at @allisonejones. Now get out there and start eating!