FOOD AND DRINK EVENTS
Eat Beat Weekly Planner
Our digest of Portland's top upcoming food and drink events, including Crab Night at Bar Avignon, blind wine tastings, and the release of the 2012 Kopstootje Biere.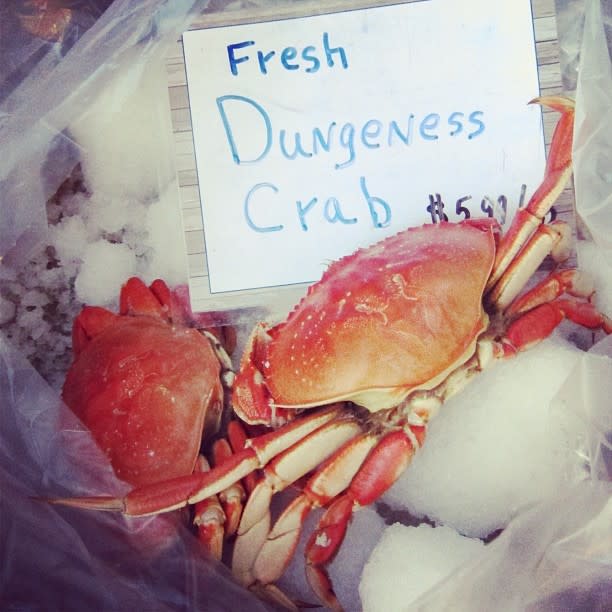 Crab Night at Bar Avignon
What: For two nights in January, Bar Avignon owners Nancy Hunt and Randy Goodman and their new chef Eric Joppie will bring back their popular crab night. The dinners will feature whole and half Dungeness crabs, sides like fennel citrus slaw or broccoli rabe with linguiça, and plenty of winter wine favorites.
When: Wednesdays, January 11 and January 25, from 5 pm till supplies run out.
Where: Bar Avignon 2138 SE Division; 503-517-0808
How Much: Whole crab $24, half crab $13; Side prices $6-$7.
Cork Bottle Shop's Blinded by the fLight Tasting
What: A First Friday blind tasting at Portland's only solar-powered wine shop that will leave both experts and newcomers guessing. The wines may be from Oregon, Spain, Germany, or anywhere in the world, and the bottle prices will leave many surprised. A great way to show off your skills or learn from experience.
When: Friday, January 13 from 4 to 7 pm
Where: Cork Bottle Shop 2901 NE Alberta: 503-281-2675
How Much: $10 tasting fee. No reservations needed.
2012 Kopstootje Biere Launch at The Hop & Vine
What: Upright Brewing and Bol's Genever Ambassador Jacob Grier will be launching their 2012 take on the Kopstootje—a botanical beer with a lot of character to be paired with Genever. Alex Ganum of Upright Brewing and Jacob Grier will be available to answer questions.
When: Friday, January 13 from
Where: The Hop & Vine 1914 N. Killingsworth
How Much: $8 shot-and-a-beer (2012 Kopstootje and Genever).
DishCrawl PDX's Downtown Adventure
What: A progressive dinner at four of Downtown's lesser-known eateries, with some surprises (including a complimentary cocktail pairing from the Driftwood Room at Gracie's, and a sneak-peak of the Crystal Hotel's guest rooms at the Zues Cafe stop.)
When: Tuesday, January 17 at 7 pm
Where: All Around Downtown, some locations are still secret and will be revealed to ticket holders before the event.
How Much: Tickets are $32 and are available here.
Pacific Pie Company's First Annual Pie Contest
What: In celebration of National Pie Day, Pacific Pie Co. will be hosting a Pie Contest, judged by Jen Stevenson (author of 100 Best Places to Stuff Your Faces), Joel Weiler (blogger at MakeMeSomePie.com), Chris Hertel (farmer at SunGold Farm in Forest Grove), and Kate Withiam (Pacific Pie Co Pastry Chef). Winners in both sweet and savory categories will be featured on Pacifc Pie Co's menu in February.
When: Sunday, Janurary 22 at 1 pm
Where: Pacific Pie Co 1520 SE 7th; 503-381-6157
How Much: Free to enter. To register, email [email protected]
Know about a great event coming up that should be on our radar? Shoot me an email at [email protected] or give me a shout over on Twitter at @allisonejones. Now get out there and start eating!