BREAKING FOOD NEWS
Eric Bechard's New Taco Spot
The top chef of Oregon wine country is set to open a late-night taco spot in downtown McMinnville inspired by Day of the Dead and '60s punk style.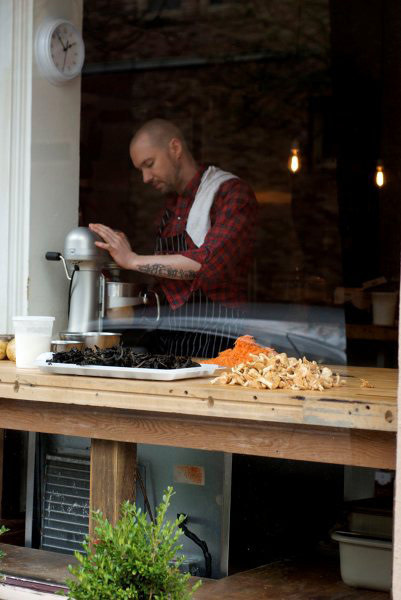 Oregon's wine country has its fair share of quaint bistros, fine dining destinations, and classy bars, but the options for quick and inexpensive eats are usually limited to spots with a drive thru window. Thistle chef and owner Eric Bechard hopes to shake up the area's late-night cheap eats offerings with his own spin on farm-to-fork Mexican cuisine, Tacos de los Muertos.
The space—formerly a tattoo parlor next to The Deluxe billiards bar on NE 3rd Street and Galloway in Downtown McMinnville—will be transformed into a small, twelve-seat eatery with walk-up counter service. The playful and fun decor and menu will draw inspiration from '60s and '70s punk rock, Lucha Libre fighters, Catholic iconography, and the colorful Mexican holiday Day of the Dead.
Tacos de los Muertos will cater to the late-night crowd, serving tacos, ceviche, and grilled corn slathered in crema and cotija cheese from 9 pm to 3 am, with lunch hours following several months later.
The menu will be seasonal and simple, with prices staying below $5, but will also maintain Bechard's dedication to farm-to-fork dining. Tacos will be made from weekly deliveries of whole pigs, and that crave-worthy corn won't show up until summer (but I'm sure it will be worth the wait).
Tacos de los Muertos is set to open mid-March. In order to prepare for the new eatery, Bechard's Thistle will be closed from February 12 to March 12. Stay tuned for more information.