FARM FRESH FOOD
Farm to Fit Delivers
This chef-powered food—from Garden State's Kevin Sandri—delivery brings fresh meals made with local produce directly to your home or office.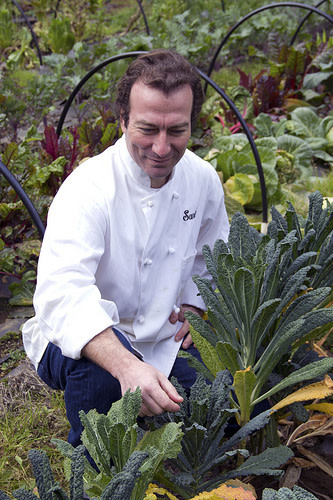 Most Portlanders know that within 50 miles of their homes, farmers are producing some of the best food in the world. We visit the farmers' markets, we recognize the names of local farms on restaurant menus (ahem, Portlandia), and we take pride in our local producers. But at the end of the day, eating farm-to-fork can be be pretty time consuming (and, at times, pricey). For busy diners who want restaurant-quality food in their homes with ingredients that come from our local foodshed, there's a new service in town.
Farm to Fit was founded in 2011 by G. Scott Brown and Dre Slaman, transplants from Los Angeles who were in search of a fresh, low-cal meal delivery system (a la Jenny Craig) that made the most of Portland's thriving food community. When their search came up with nothing, they decided to create one of their own. The result is a chef-powered, twice-weekly delivery service that brings fresh—never frozen—food directly to their clients for less than they'd spend at a food cart.
When the early Farm to Fit team cast out a Craigslist add to enlist some culinary help, they were surprised and delighted to receive a response from Kevin Sandri, who blazed his own trail serving up delicious and healthy food in Portland at his now-closed food cart Garden State. Sandri prepares each meal for Farm to Fit with the same care and quality ingredients that earned him accolades at Garden State. You can even find favorites from the shuttered cart's menu in the Farm to Fit lineup, like Garden State's meatballs and grilled chicken sandwiches.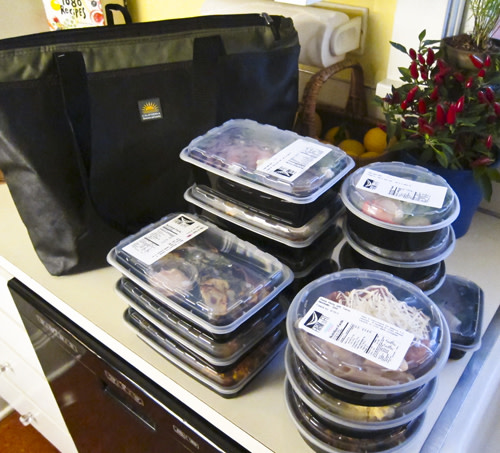 Currently, Farm to Fit sources produce from Sauvie Island Organics, Zenger Farm, and Gathering Together Farm, true PDX food celebrities in their own right. Though the veggies are the star in many meals, the program does include meat, and no vegetarian options are available yet. Pending demand, meal plans tailored to dietary restrictions will be rolled out in 2012.
I decided to try a week on the plan to see if the meals could hold up to the hype, and they definitely did. The salads were fresh, the portions were plentiful, and each dish was as fresh on the fourth day after delivery as it had been on the first. Each day's meals featured different international flavors, like Thai, Indian, Spanish, Italian and more.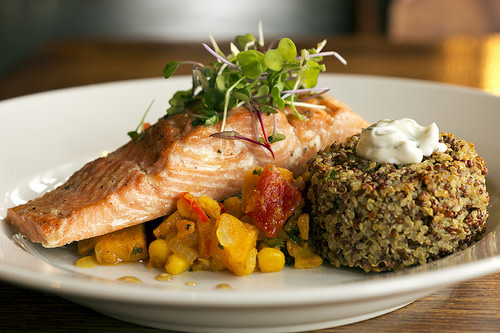 Stand-out dishes included balsamic steak salad with winter lettuces, local crab cakes with coleslaw, carnitas tacos with fresh salsa, braised lamb with raita, and (surprisingly) most of the breakfasts. The french toast was decadent, the Spanish potato tortilla with harissa yogurt was delicious, and yes, there was plenty of bacon (and that was all on the 1200-calorie a day plan!).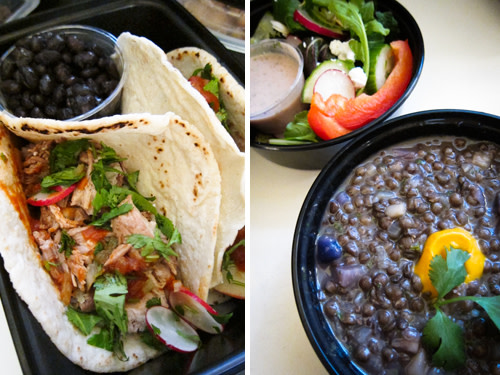 Another stand-out is the price. You can choose between 1200, 1600, or 2000 calorie plans, and 21 meals delivered start at $160 a week. Coolers packed with fresh food are delivered to homes and offices on Tuesday and Friday, so everything is guaranteed fresh (and most of the meals can be frozen and eaten later if you choose to dine out for a meal or make your own).
I'm a big home cook—and, well, I dine out for a living—so by the end of the week I missed using my stove instead of the microwave and found that the plan wouldn't really fit into my family's lifestyle. That being said, I know so many people out there who skip breakfast, buy lunch at the carts or restaurants every day at work, and are too busy to spend the evening shopping for quality ingredients and whipping up gourmet meals. For those folks, Farm to Fit would be a real winner.
For more information and ordering details, visit Farm to Fit's website or call 503-688-9248.