HOLIDAY EATS CHEAT SHEET
Game Day Grub Guide
Super Bowl Sunday is quickly approaching, so gear up with these snacks for a perfect party or skip the mess and head to some of Portland's best restaurants for watching and noshing.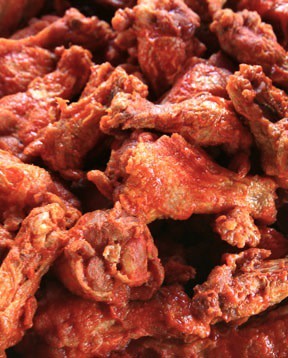 Whether you're rooting for the Giants, the Patriots, or the commercials, you're going to need to eat this Super Bowl Sunday. Several Portland eateries and local food purveyors are ready to set you up for a perfect play from their kitchen to your living room table. Game on!
Heading out to watch the game?: EaT: An Oyster Bar will be featuring food specials and a chance to win a big fancy television so you can skip the dive bar (remember, kick-off is scheduled for 3:30 pm). Skyline Burgers on Broadway is hosting an all-you-can-eat Indoor Tailgater Party, complete with sliders, build-your-own hot dog bar, sloppy joes, and hot wings for $9.95 (they'll also be showing the game projected on a huge wall AND three 60 inch flat screens). Reservations for Skyline's bash are necessary, call 503-808-1553 for more details.
Throwing your own party?: Order some take-out for your gathering. Superbowl packages will be available from Fire on the Mountain (hot wings with tons of sauces—Whiskey Pomegranate BBQ sauce, anyone?), Bunk Sandwiches (think Pork Belly Bahn Mi, Roasted Pork Shoulder sammys, and classic Mufalettas with sides of Picklopolis pickles and apple cabbage slaw) and Portland Seafood Company (featuring Dungeness Crab Buckets, Oyster Po' Boys, and Fish & Chip platters with all the fixin's). Many other restaurants are also ready for take-out orders, like Sizzle Pie, Screen Door, Kenny & Zuke's Sandwichworks, and Hawain BBQ from Ate-Oh-Ate.
Need to bring some snacks to another party?: You know you can do better than chips and dip. This Super Bowl Sunday, snack local with tasty treats like the addictive (and naturally gluten-free) Brazilian cheese breads puffs from Brazi Bites (made at Portland's own KitchenCru), a dozen macarons from Pix Patisserie, a whole pie or pastries from Random Order, or some cheeses and sausages at Cheese Bar.
Looking for a spot to celebrate (or drown your sorrows) after the game?: Southeast Division's Wafu is celebrating the 46th Super Bowl with $4.60 bowls of ramen, 46 cent add-ons, and a new line of bao (steam buns) for just 46 cents each. They won't be showing the game, but the Super [Ramen] Bowl starts at Wafu at 5 pm.
Need a break from the sports fans themselves?: NE Killingsworth's Yakuza is opening up their outdoor soaking tub and Kuza Garden Cabin for a Sip n Soak Post-Bowl Evening starting at 5 pm. Sip n Soak Sunday dishes will include $4 salads, $5 veggie hand rolls (packed with buttternut squash, asian pear, tsukimono, and roasted bell pepper), and $6 salmon hand rolls and soba noodle salads. There will even be childcare available, so you have no reason not to relax and soak the game away. Call the restaurant for reservations.
How will you be cheering this Sunday?