BREAKING FOOD NEWS
Kristen Murray Leaving Paley's Place
The acclaimed pastry wiz and dessert chef is searching for a location to cook up her own dreams.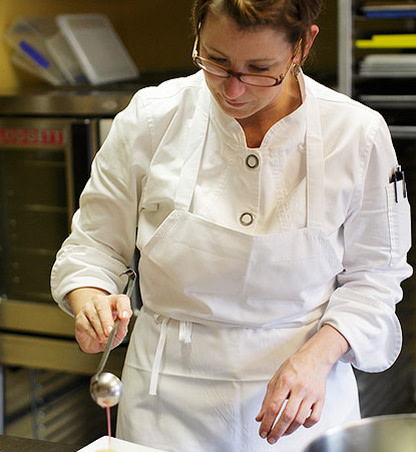 Call it the ChefStable syndrome. Or a note of optimism that the economy is slowly lurching forward. Or maybe just Portland's belief that if you dream it, it will happen. Whatever the reason, or all of the reasons, Portland's food world is growing. Following a whirlwind of openings in the fall, a new generation of bartenders, bakers, line cooks, and supper clubbers is busy scheming new projects. Among the searchers: former June barman Kelley Swenson and Din Din Supper Club's Courtney Sproule.
Add Kristen D. Murray to the list. The latest in a long line of talented pastry chefs at Paley's Place, Murray is leaving her Northwest Portland perch at the beginning of March. As ideas blossom around the city, Murray feels this is the moment to pursue her longtime dream of running her own place, with hopes to find a location by fall. Part of the motivation is the Paleys' new project, still under wraps but slated for downtown Portland some time this year.
Murray is a rarity in Portland: a high-flying, east coast-trained dessert maker working in a comfort food town. She drew critical raves at Lucier, the Titanic of Portland restaurants that closed in 2009, and Fenouil in the Pearl District. How she defines her own style in her own place will be exciting to watch.
Portland Monthly's Best Restaurants issue called Murray's fashion-forward plates a must in 48-hour eating tour of Portland. It's a fitting finale to a kitchen that Saveur magazine just called "a shine to the bounty of Oregon" bounty in its top 100 food favorites of the year.
Meanwhile, as Murray searches for a new home, you still have another 6 to 7 weeks to see what all the fuss is about.
Paley's Place
1204 NW 21st Ave
503-243-2403