HOMETOWN PRIDE
Major Mags Give Props to PDX Eats & Drinks
Recent issues of Saveur, Esquire, Paste and more put Oregonian artisans in the spotlight, including Olympic Provisions, Steven Smith Teamaker, Pok Pok, Ristretto, and Paley's Place.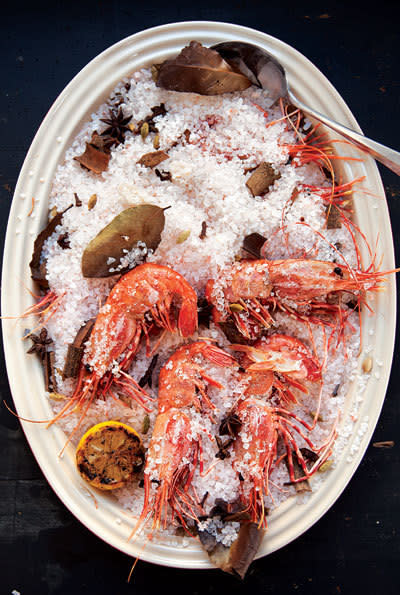 In the continuing saga of the national media's love affair with Portland, Oregon, recent issues of major foodie and not-so-foodie publications are filled with recognition of top Oregonian movers and shakers:
1. Steven Smith gets the WSJ Treatment: The Wall Street Journal recently profiled Portland's hometown tea guru, calling Steven Smith "one of the biggest players in modern tea history". The business rag goes on to highlight Smith's creative approach to unconventional tea ingredients like pink rose petals (inspired by the Portland Rose Garden), dried Douglas fir needles, bamboo leaves, and flavors that result from aging teas in Pinot Noir and whiskey barrels.
2. Charcuterie Kings: In Sauveur's annual top-100 list of favorite restaurants, kitchen tools, cookbooks, and products, Olympic Provisions grabbed number 70. In the words of the Saveur editors, the Portland salami saviors "make some of the finest charcuterie we've tasted". Their favorite? The Greek Loukanika sausage with orange zest and cumin.
3. Paley's Place is a Saveur Sweetheart: in the same Saveur list issue, Portland's Paley's Place nabs a spot at 23. Saveur calls the Northwest 21st Avenue mainstay "a shrine to the bounty of the Pacific Northwest" with "a quiet confidence…grounded in the classics but not confined by them."
4. Bruce Carey gets Pasted: In a list of The Top Ten Best Things About Portland, Oregon, Bruce Carey Restaurants (including Bluehour, Saucebox, and clarklewis) nabbed the #6 spot for their continued success in a city that tends to favor hot carts over haute cuisine. Other items on the list? The Aladdin Theater, the Japanese Gardens, The Timbers, and Elliott Smith.
5. Esquire goes gaga for Pok Pok: In the January Issue of Esquire magazine, an article titled Things We're Looking Forward To revealed the white-knuckle anticipation New Yorkers are experiencing over the impending openings of NYC's Pok Pok outposts. The editors call Andy Ricker's restaurant "one of the best reasons to go to Portland"—does that mean once the New York eateries open we'll see less New York love of PDX? Doubt it.
6. Huffington Post In a list of The 10 Coolest Independent Coffee Shops Across The U.S., Zagat.com and HuffPo laud "the pure love and joy owner Din Johnson put into his shop".
Cheers to all the hometown heroes carrying the banner this month!