FIRST IMPRESSIONS
Milwaukie Kitchen & Wine
Veteran chef Pascal Sauton brings French comfort, great baking, curated ingredients, and spontaneous evenings to Clackamas country.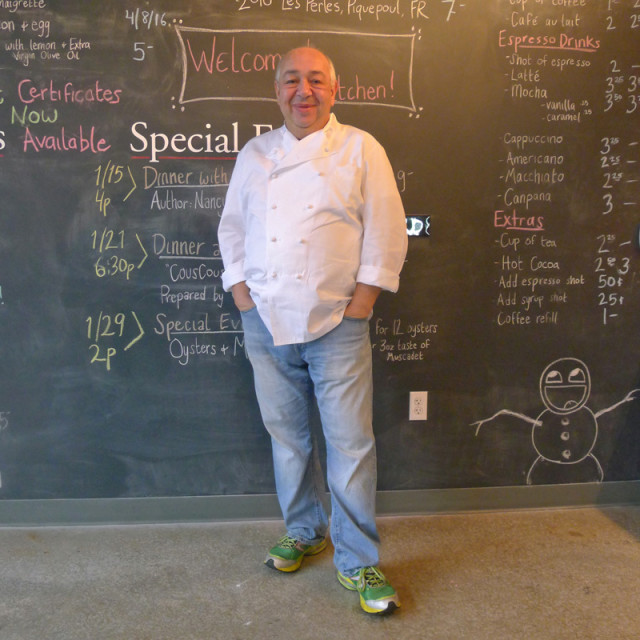 The jocular, apple-cheeked face is familiar, and so are the smells of beef stock and the obvious love of local ingredients. But everything else has changed for Pascal Sauton, the dean of French country cooking and, until a sudden departure last spring, owner of the old-school Carafe bistro in downtown. This story of one man's reinvention is told in the rolled-up sleeves of a white chef's jacket. It's found in 2,500 feet of industrial chic deli cases, grocery racks, leather couches, and one elegantly candled communal table—all gleaming in the foodie desert of Main Street Milwaukie.
Sauton's new Milwaukie Kitchen & Wine would be interesting even if it wasn't a signal that Portland's chefs are looking to branch out into uncharted territory. The project could be the next step for established cooks weary of growing competition or another night of the same old dishes. Unlike Carafe, where tradition rules, Milwaukie Kitchen blends polish with Portland's free-style approach, curated retail, homey food, cooking classes, and a dinner series starring your culinary friends—or anyone else you find interesting.
After 35 years in the business, and eight at Carafe, Sauton says he is finished with routine and the ties to a nightly menu. "I love food, teaching, cooking. I just do whatever I want, to work with whatever is available." Clearly, the man loves wine: one entire wall holds a smartly curated selection of European and Northwest bottles. Up front, a chalkboard wall signals the day's specials. Grandmotherly soups stand alongside interesting salads, recently a wintry inspiration of sliced oranges and pomegranate seeds as well as tender buds of cauliflower sweetened by an intensity of tiny currants.
As Carafe's lunch made clear, Sauton knows his way around a sandwich. His feel for textures and technique plays out beautifully in a breakfast sandwich, with each element carefully considered: the city's best croissant from Ken's Artisan Bakery; a textbook fried egg elevated by a quiet carpet of pepper; a nice flap of smoked ham; and, of course, good cheddar.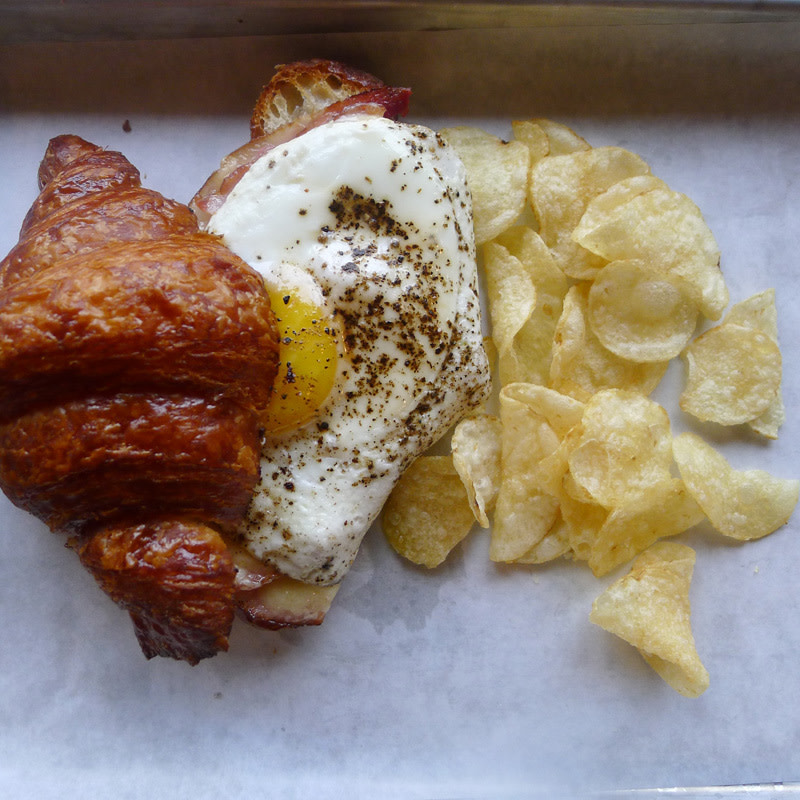 I'd return just for the lamb sandwich, sometimes roasted and sliced off the leg, sometimes transformed into spicy merguez sausage and brightened by thick dabs of Tunisian chile sauce.
Milwaukie Kitchen has another weapon: baker extraordinaire Kir Jensen, currently on winter hiatus from her Sugar Cube cart. Jensen will bequeath her recipes to the kitchen when she ultimately departs. But for now, she is unleashing a small and changing menu of exquisite finds, among them super tender lemon scones with lemon curd, chocolate chip cookies perfumed with roasted hazelnuts from farmer market favorite Freddy Guy's, and a savory bread pudding of supreme comfort.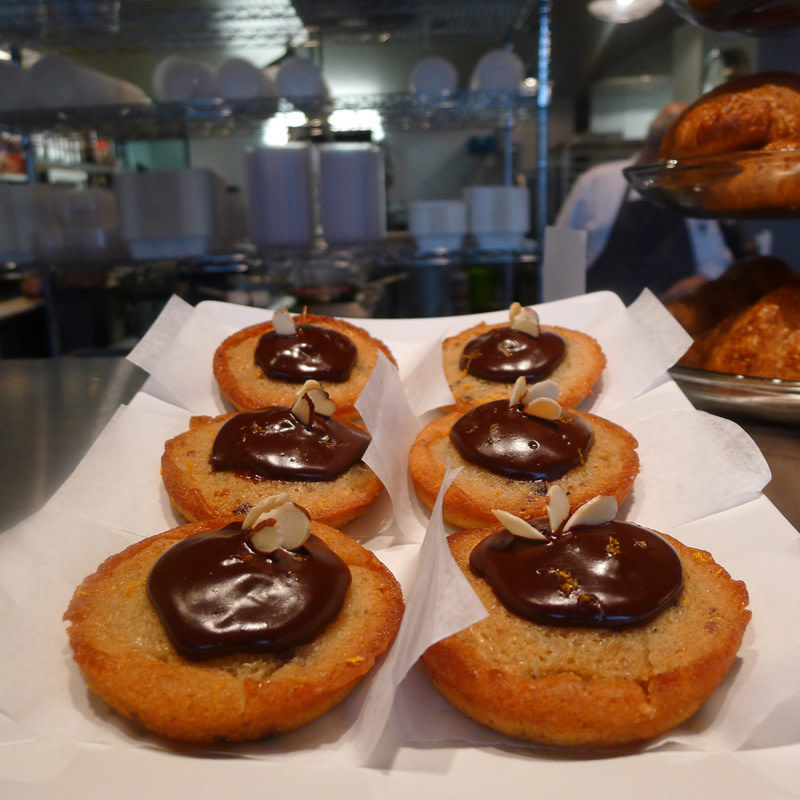 Sauton, often a presence on the floor greeting customers, beams in this new perch. Carafe had long fallen off the radar; in Clackamas, he is the new food king. Locals, he reports, come in every day to thank him for coming to the neighborhood. Right now, his new venture is positioned across the street from the sweet little Casa de Tamales, and near the percolating Milwaukie Farmer's Market. An urban farmer recently volunteered to grow things for his kitchen. And he hopes the nano-brewery Short Snout will soon open nearby. He's already dreaming of collaborations.
"The energy is great," Sauton says. "I'm self-sufficient here in Clackamas, including my clientele. I'm building something in a small town in middle America. It feels awesome."
Milwaukie Kitchen's Diverse Menu:
Sat, Jan 14: Cooking with Pascal & Guillaume Sauton, 2 to 4 pm, for kids 8 to 12 only; $40
Sauton swears his 10-year-old son Guillaume can handle a knife better than a cooking school grad. He'll show off his blade work and share secrets in a collection of dishes: scratch mac and cheese; baked apples; and his speciality, scrambledeggs with goat cheese and caramelized onions.
Sun, Jan 15: Author series with Nancy Rommelmann, 4 p.m.; $39. Local writer Nancy Rommelmann reads from her latest novel, The Bad Mother, while the good chef Sauton cooks up a three-course meal.
Fri, Jan 20: Trattoria Dinner. 6:30 p.m.; $65. As part of the rotating "house instructor" series, learn the secrets of a family-style Italian meal from Ameila Hard, former owner of the legendary Genoa.
Sat, Jan 21: Couscous Royale dinner, 6:30 p.m.; $39. Sauton's "Dinner at the Table" series revolves around changing themes. Up next: a taste of Morocco.
Milwaukie Kitchen
10610 SE Main St, Milwaukie
503-653-3228
Morning pastries, sandwiches and specials served daily, 8 a.m–7 p.m.