FAKE HOLIDAYS
National Peanut Brittle Day
Celebrate with peanut and other nut brittles from around Portland, or make your own with this recipe from pastry chef Kristen Murray.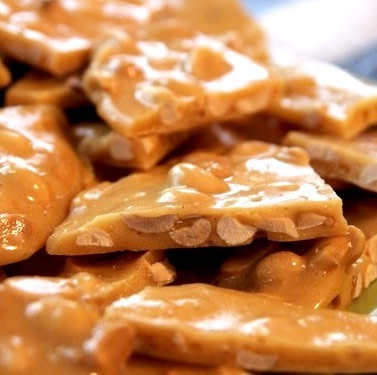 January 26th is National Peanut Brittle Day, so I've culled some of the best buttery and nutty, sweet and salty variations on the classic treat from around Portland. Get crunching!
Pick up some curried cashew brittle at posh candy shop Northwest Sweets (740 NW 23rd Ave), or stop by Alma Chocolates on Northeast 28th for their pistachio, ginger almond, and hazelnut cherry toffee (Cacao at The Heathman also stocks a variety of Alma's chocolate-covered toffees for candy cravers downtown).
Tigard-based Brittle Kittle has gained a following for their "unBrittle", which uses natural peanut butter in their recipe for a softer take on the typically mega-crunchy sweet. Try their peanut, almond, and hazelnut varieties, or indulge in chocolate-covered unBrittle for a real treat.
If you're up for a drive to get your brittle fix, the best peanut brittle in the state is made at a tiny place called Sarah Jo's Candy at the Bunk House Restaurant in Nehalem (36315 Hwy. 101 N). If you can't justify a trip to the coast for dessert, Elephant's Delicatessen here in town carries Sarah Jo's caramels. For other great Oregon finds, head to the Pacific Hazelnut Candy Factory in Aurora for some wicked good hazelnut toffee or Puddin' River Chocolates in Canby for pecan brittle, apricot almond bark, and hazelnut toffee.
Yes, The Redhead confections may be based in NYC, but their bacon peanut brittle is full of Portlandish flavors. Peanuts, maple syrup, cayenne, thyme, and bacon? That's definitely worth some shipping and handling.
If you're more the DIY type, here's a recipe from award-winning pastry chef Kristen Murray, who's been whipping up unique treats at Paley's Place and will be opening her own sweet shop this year.
Nana's Nut Brittle
From Pastry Chef Kristen Murray
2 cups granulated sugar
1/2 cup water
2 Tablespoon honey
1 1/2 sticks butter
1/2 teaspoon baking soda
1 cup toasted and chopped pecans
1 cup toasted and chopped cashews
1 cup toasted and skinned Spanish or Virginia peanuts
Mix sugar, water, honey, and butter in a medium saucepan. Bring to a boil and cook on high until mixture reaches 300 F to 310 F on a candy thermometer. It will be a beautiful light chestnut brown color. Remove from heat. Add baking soda and stir to combine. Quickly stir in the warm nuts and pour onto a well-oiled sheet tray. Finish the brittle by sprinkling your favorite flaked sea salt* on top. Let cool before breaking into shards.
*Murray recommends Jacobsen Sea Salt or Turkish black pyramid sea salt to finish the brittle.