Market Watch
Quinoa, Queen of (Alt) Grains
How to enjoy, and pronounce, the supergrain that's not a grain.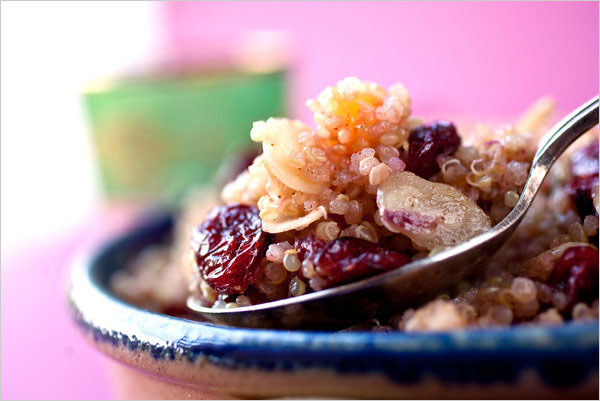 Superfoods were a topic of this blog last week: the array of red/orange and green hued vegetables, unique good-for-you fats, and cultured and fermented foods. Did you notice that this concise list of top food world performers includes not a single grain? But of course, grains are good too. They may not make it to the gold medal platform of the superfood Olympics, but they're certainly there at silver and bronze levels.
And of the good grains, quinoa stands out as a can't-miss medalist. Only it turns out it's not actually a grain. It's a member of the leafy greens family we've already hailed as superfoods – specifically, the "fruit of an herb in the goosefoot family." But gee, can't a grain get a break? If it looks like a grain, and acts like a grain, can we just call it a grain? Quinoa is as a good as any grain (better than, actually). And it's pronounced "keen-wah."
Many people have discovered it in recent years, but quinoa deserves to be further called out for its special merits. Unlike most grains, it's very high in protein – and a complete protein at that, meaning you don't have to match it with beans, say, to get all nine essential amino acids. Quinoa is also very high in iron and calcium.
Any discovery of quinoa is actually a rediscovery, since it was a staple food of the Inca people. They grew their "mother grain" even in very high and dry mountainous conditions, until the Conquistadores and Pizarro arrived and promptly banned it. (Pizarro evidently replaced the crop with barley, from which he made European style beer, according to The Versatile Grain and the Elegant Bean.)
But what you really need to know about quinoa is that it tastes really good. It's fluffy and nutty, less bland or starchy than rice but still a good foil for just about any combo of vegetables, meats or spices. Cooking is quick – only about 15 or 20 minutes – and transforms the tiny dot of beigey yellow into a light sphere with a little ring around it. Crazy as that sounds, it's quite a beautiful little grain.
Some recipes suggest you rinse it before cooking, to remove any bitterness that might still coat the grain (saponin, a natural insect repellent). But these days, many quinoas come prerinsed, and I never bother. Also, toasting it first is optional, for a touch more flavor, and again, I don't bother with that step. For me, quinoa comes good to go, grain or not.
Here's a great and easy recipe (from Moosewood Cooks at Home) to launch your own adventure with quinoa.
Peruvian Quinoa Stew
1/2 cup quinoa
1 cup water
2 cups chopped onions
2 garlic cloves, minced or pressed
2 tablespoons vegetable oil
1 celery stalk, chopped
1 carrot, cut on diagonal into 1/4 inch thick slices
1 bell pepper, cut into 1 inch pieces
1 cup cubed zucchini 
2 cups undrained chopped fresh or canned tomatoes
1 cup water or vegetable stock
2 teaspoons ground cumin
1/2 teaspoon chili powder
1 teaspoon ground coriander
pinch of cayenne (or more to taste)
2 teaspoons fresh oregano (1 teaspoon dried)
salt to taste
chopped fresh cilantro (optional)
grated cheddar or Monterey Jack cheese (optional)
Using a fine seive, rinse quinoa well (optional). Place it in a pot with the water and cook, covered, on medium-low heat for about 15 minutes, until soft. Set aside.
While the quinoa cooks, in a covered soup pot saute the onions and garlic in the oil for about 5 minutes on medium heat. Add the celery and carrots, and continue to cook for 5 minutes, stirring often. Add the bell pepper, zucchini, tomatoes, and water or stock. Stir in the cumin, chili powder, coriander, cayenne, and oregano, and simmer, covered, for 10-15 minutes, until the vegetables are tender.
Stir the cooked quinoa into the stew and add salt to taste. Top with cilantro and grated cheese, if you wish. Serve immediately – and enjoy!
Martha Rose Shulman in the New York Times also has some creative ideas for ways to use quinoa in breakfast cereal and in baking.