Cart Culture
Roshambo Food Cart: Edible Yoga
This vegetarian food cart is serving up classic Indian dishes packed with seasonal, local, and organic ingredients that are good for your body and spirit.
Yoga and great food have a lot in common. They both focus your attention—it's pretty hard to be distracted when you're eating something sublime—and they leave you feeling like you've done something good for your body. Chef David McGough and yoga teacher Uma Diana Hulet agree, so they opened their vegetarian Indian food cart Roshambo (with the help of developer Randy Rapaport) to give hungry Portlanders a fresh and delicious way to nourish their bellies and spirits.
Parked on the north side of D Street Noshery at 32rd and Division, Roshambo serves up comforting Indian classics that are perfect for these wintry days. Everything is made in-cart, from the fresh paneer and raita to mango chutney and feather-light fried potato, jalapeno, and paneer koftas ($6).
Menu standouts include the best-selling moong dal with spinach (spiced yellow moong beans with spinach topped with house-made ghee, $9), vegetable and paneer korma ($9), and vegan aloo dum (potatoes in a creamy, spicy curry sauce—way more than the sum of its parts, $9). All entrees are served with rice, and portions are plentiful. Yes, the prices are a bit high for a food cart, but the quality of ingredients separates this cart's fresh dishes from other Indian joints around town.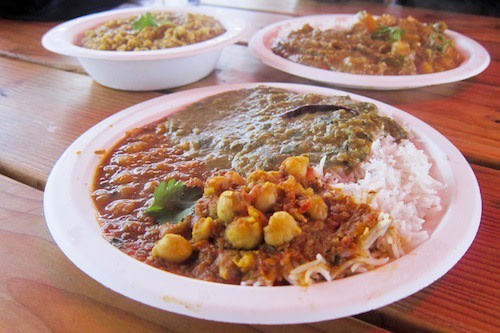 If you stop in on a Friday or Saturday evening, you can grab spiced vegan samosas with house-made mango chutney fresh out of the fryer. Roshambo's dahl and Ayurvedic-inspired kichari (spiced brown basmati rice with lentils and seasonal vegetables) are also available to-go from People's Co-Op (3029 SE 21st Ave).
Don't let the rain and cold stop your from a visit to Roshambo—D Street Noshery has one of the best enclosed (and heated!) dining areas around, so you can stay warm and dry while the food heals you from the inside out. After digging into a plate of nosh from Roshambo, you'll feel like you've been downward dogging through your lunch break, with a full stomach to boot.
Roshambo at D Street Noshery; 971-266-1008
Winter Hours (subject to change due to weather, call ahead to confirm): Wednesday-Saturday noon to 8 pm; Sunday noon to 7 pm.