DATE NIGHT CONFIDENTIAL
Sexy Southern Fare at Acadia
This neighborhood favorite is a gem in NE Fremont's adorable main drag, serving up New Orleans-inspired fare with a seasonal twist and plenty of romance.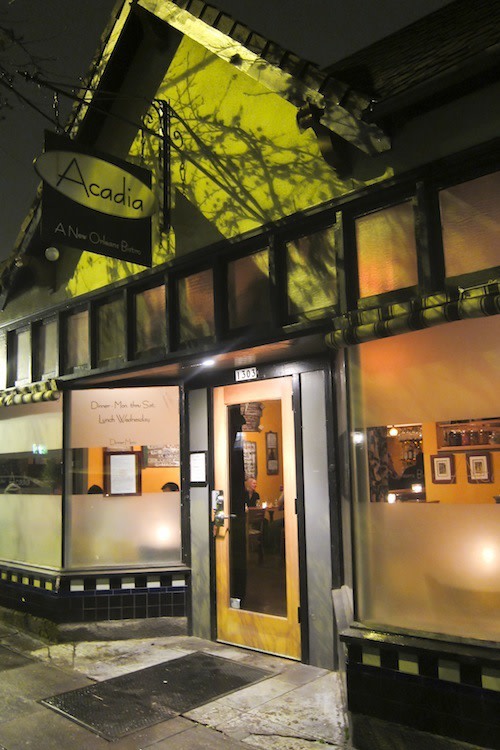 Fresh out of ideas for date night? Eat Beat's got your back – we're tracking down and sharing some tried and tested bars and restaurants guaranteed to get the night off to a sexy start. Our patented Date Night Confidential rating system will help you find the perfect spot to snog your sweetie over dinner.
Next up, Northeast Fremont's Louisiana love nest Acadia. This candle-lit Southern eatery dishes out creative, comforting takes on New Orleans classics.
Menu standouts include cornmeal-fried catfish, rabbit and andouille gumbo, fried soft shell crab, an epically large brown sugar-brined pork chop, and the delicious pecan-crusted Louisiana Drum fish with pickled pumpkin relish, blue crab, and brown butter.
Chef Adam Higgs is putting a seasonal spin on many of these classic dishes, with fresh, local ingredients and plenty of pickles to get through the winter veggie slump. You must order the Louisiana barbecue shrimp in a lick-the-bowl-clean-it's-so-good sauce of white wine, black pepper, Worcestershire, lemon, and plenty of butter. Trust me, or ask any of Acadia's long-time neighborhood fans.
Cheap Date Bonus: Every week, Acadia offers a Mardi Gras Mondays "Cheap Eats" Menu with $10 entrees, like gulf shrimp and crawfish tails with a creamy, sherried tomato sauce over fettucine, blackened catfish with hollandaise sauce, and a cup of Gumbo, red beans, and dirty rice.
The bar serves up carefully crafted cocktails like the Old Fashioned Peach with beach bourbon, Dolin Rouge, peach bitters and ice or the Pe-cans are for Truckers with pecan rum, Grand Marnier, cane syrup, Fernet Branca and lemon, along with classic NOLA sips like Hurricanes and Sazeracs.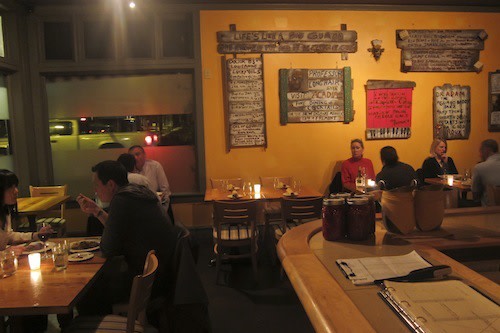 The Date Night Confidential Low-down
Noise Level: The speakers supply plenty of classic Southern jazz and blues, keeping the volume low enough for comfortable conversation.
Lighting: Candles top each table in the restaurant, with low, romantic lighting supplementing the glow. The effect is warm, inviting, and casual.
Physical Proximity Potential: Most two-seat tables position diners face-to-face, not side by side, but that means more footsie action and heavy eye contact.
Privacy: Tables are pretty close together, limiting large amounts of sneaky smooches to the exhibitionists, but there are several set-apart tables that offer more privacy (reservations help if you want to score a special spot).
Shareability: Here's where Acadia really shines. The appetizers are meant to be shared, and if you order enough, one of the huge entrees is perfect for two people. The barbeque shrimp come in servings of four (with plenty of finger-licking good sauce), and the seasonal salads are big enough to split. The ultimate sharable dish? Acadia's decadent Chocolate Trifle—with chocolate cake, chocolate and malted-vanilla pastry creams, salted caramel creme fraiche, and Nutella chocolate sauce—definitely calls for two spoons.
Overall Date Night Score: 4/5
Acadia 1303 NE Fremont St.; 503-249-5001
Dinner: Monday through Saturday, 5:00 pm – 10:00 pm
Lunch: Wednesdays Only 11:30 am – 2:30 pm
Closed Sunday