Event Spotlight
Slow Food PDX's Small-Scale Meat Seminar
A panel discussion on local meat supply chains, featuring producers and processors, at Portland's KitchenCru.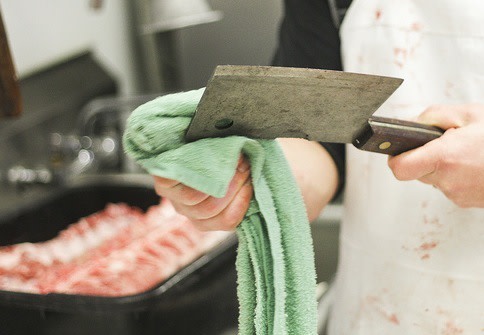 It's the question of our times: What should we eat? It seems as though every month brings a new documentary or book about how we should be eating low on the food chain and sourcing as locally as possible. With all that information out there, it's worth it to seek out the experts themselves to get a clearer view on the issues.
On Thursday, January 26th from 7 to 9 pm, small-scale meat producers and processers from the Portland area will gather at KitchenCru (337 NW Broadway) in an educational discussion of the efforts that bring quality meats to the Portland market. The panel is set to include:
Bob Dickson, overseer of meat processing at Dayton Natural Meats.
Lauren Gwin, from the OSU Extension Service and the Niche Meat Processor Assistance Network.
Tyler and Alicia Jones, from pasture-based, multi-generational family owned Afton Field Farm in Corvallis, Oregon.
David McKibben, who raises grass-fed and grass-finished cattle on the 200-acre pasture at McK Ranch in Dallas, Oregon.
Chris Roehm, who raises hogs and grows organic produce at Square Peg Farm in Forest Grove, Oregon.
The event is sponsored by Slow Food Portland, and will shed light on the issues behind Portland's menus and markets from farm to table (and the messy parts in between).
Tickets cost just $5, and you can reserve your spot at the Slow Food Portland website. Happy eating!