FIRST IMPRESSIONS
The Old Gold
There's a new kind of cocktail in the neighborhood.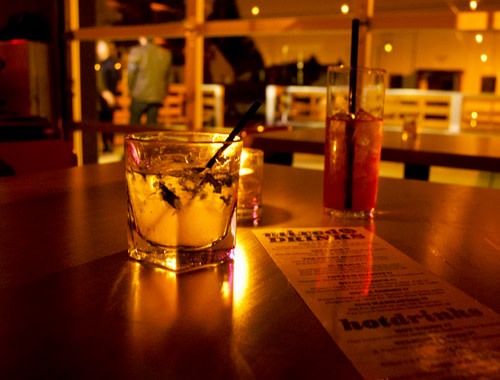 What: The Old Gold
Where: 2105 N Killingsworth
When: Sun 12pm-12am, Mon-Tues 4pm until 12am, Tues 4pm-12am, Wed-Thurs 4pm-1am, Thurs 4pm-1am, Fri 4pm-2am, Sat 12pm-2am.
Why: Next to a backlit wooden bar, a massive chalkboard boasts an impressive selection of 19 whiskeys. Soul and Motown music plays and a flat-screen is perched in the corner. Pop art rendered by bearded hipsters and a wooden White Stag sign adorn the walls above high-backed booths and metallic tables at this cool-but-cozy neighborhood joint. One of the booths even boasts a champagne button! Press it and a bartender will dash over with some bubbly. Chances are you might find former Portland Mercury music editor Ezra Caraeff, one of the co-owners, behind the bar, polishing Blazers glassware and dissing the skills of Houston Rockets forward Chase Budinger.
The eight specialty cocktails all hover around seven bucks, but well drinks and beers are relatively cheap and the half-dozen taps range from crafty (Hopworks Hub Lager and Double Mountain Vaporizer!) to blue collar (Rainier!). There are bar snacks like hand-popped popcorn with curry and nutritional yeast and white bean chimichurri dip. And during Happy Hour you can take a dollar off the vegan Tofu Bánh Mì or the Elk Burger with dried cherry relish and Fontina.
What makes the cocktails special? The inclusion of the fizzy, tangy, probiotic tea known as Kombucha, the health drink that has gained a sturdy foothold in beverage-obsessed Portland. Kombucha is slightly alcoholic due to its fermentation process, but it's still viewed with skepticism in a saloon setting. The symbiotic glop of bacteria and yeast sits in a vat of tea for one or two weeks before it is ready for consumption. Unsurprisingly, hippies love it. Surprisingly, its earthy flavor mixes very well with liquor. Those who already love the bubbly brew can probably imagine how well lemon ginger cayenne Kombucha tastes with tequila—yum!
The Old Gold uses locally made Brew Doctor Kombucha in a lot of their signature cocktails. Monopolowa Vodka, fresh lime juice, mint, and Brew Dr. White Rose Kombucha make up the the OG Mule (the acronym refers to Old Gold, not Original Gangster, but this drink is so fresh I doubt Ice-T would mind if his album name was co-opted). Fans of floral-flavored concoctions will love the Not a Cosmo, made with Ketel orange, cranberry liqueur, lime, simple syrup and Brew Dr. White Rose Kombucha.
Not feelin' the Kombucha? Sip on the Sam Elliott–absinthe and root beer on the rocks. The menu even has a convenient "Shot and Beer" section perfect for jump starting a pre-game buzz. Try "The Ozzie," (Tecate and a shot of tequila) and the "The Ryer" (A half-pint of Boneyard Backbone Chocolate Espresso Stout and a shot of Bulleit Rye). At this bar, Kombucha has ditched its Birkenstocks and donned a flattering cocktail dress. For those who appreciate good whiskey and are in search of a comfortable neighborhood hangout, the Old Gold's the perfect place to grab a shot and a beer and catch the Blazers game.