Market Watch
Winter Bounty
The recipes in Lane Morgan's book "Winter Harvest" inspire a season's worth of fresh meals.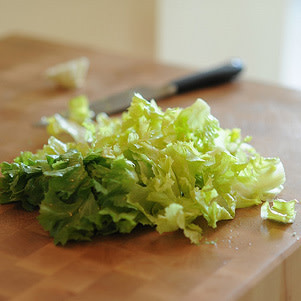 Winter gardens in the Pacific Northwest produce more than just potatoes, squash, kale and cabbage. Open your eyes (at least in the right garden or farmers' market) and you'll find cardoons, chicory, Florence fennel, and scorzonera – not to mention rampion, raab, good king henry and hamburg parsley.
The Portland Farmers' Market is open this winter at Shemanski Park (South Park Blocks between SW Main and SW Salmon) through February 25, on Saturdays from 10 a.m. to 2 p.m. I haven't checked it out yet this new year, but I'm especially eager to now that I've perused Lane Morgan's fabulous Winter Harvest: How to select and prepare fresh seasonal produce all winter long.
Winter Harvest is a guide to winter vegetables – from the usual suspects to the not so well known mentioned above – that the Bellingham, WA-based author and teacher first published 20 years ago, before "locavore" was even a word. Now she's updated the book for its 20-year birthday, and its message and methods are all the more welcome.
As Morgan points out in the new introduction, "cooking local" was what people had to do, back in the day. Locavore wasn't a new fad; "all cooking was seasonal until recent times, so winter vegetables are central to many classic recipes." She mentions French garbure, Italian bagna cauda, and Japanese tsukemono – all "based on cold-weather stalwarts like cabbage, cardoons, collards and turnips."
I'll have to check out the winter market to see if I can score some gobo (a root "full and rich, with a bittersweet edge"), orach (spinach-like member of the goosefoot family), or hardy kiwi. For now, there are plenty of simple recipes for commonly found winter goodies like cauliflower, Brussels sprouts and kale. Here is one to start with, featuring escarole (a "broad-leaved variety of chicory").
Garbanzo Beans with Greens
3 tablespoons olive oil
1 tablespoon butter
1 clove garlic, minced or pressed
1 head escarole, cut across in ½ inch slices
1 teaspoon grated lemon peel (out of season here, so optional)
¼ cup chopped parsley
salt and pepper
1 cup cooked garbanzo beans, drained
2 tablespoons lemon juice
Heat oil and butter in a large skillet until butter is melted. Add garlic and stir briefly over medium heat. Don't let it brown. Immediately add escarole to skillet and continue stirring over medium heat until it is wilted. Add lemon peel (if used) and parsley. Season with salt and pepper and mix in garbanzos. Stir gently over medium heat until beans are warmed through. Transfer to a serving bowl, sprinkle on lemon juice, and serve immediately. (Can also be served chilled.)
Recipe from Winter Harvest by Lane Morgan; New Society Publishers, 2010.