Good Ideas
Singing the Brews
Wow & Flutter buys fans a beer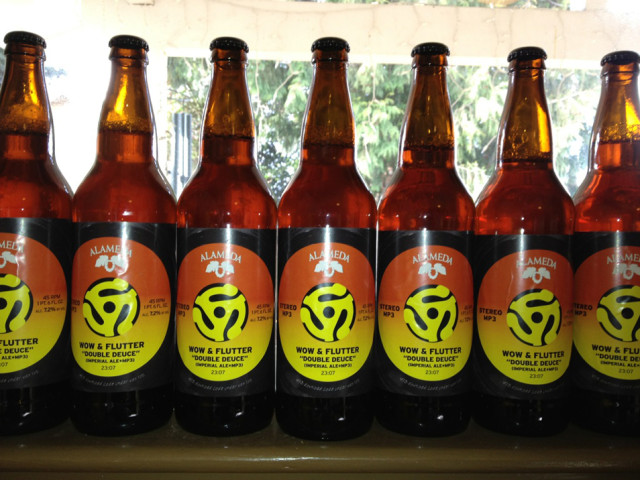 Who says all the great ideas have been taken? Behold, an example of thinking outside the box that leads to a very savvy marketing campaign. At Saturday's record release party, veteran Portland band Wow & Flutter will be giving its legions of fans a download code for a new EP, Double Deuce (Jealous Butcher Records). Now here comes the innovative part: The download code will be emblazoned on a wax seal that tops 22 oz. bottles of Double Deuce Imperial Ale from Alameda Brewing. Think of it: This could become the ultimate marriage of commerce and culture. Soon, every product imaginable, from light bulbs to toilet paper, could come with downloadable tunes. Everything's a commodity, right? Consumer goods become just a little bit hipper and starving artists get some walking-around money. Win-win.
Drummer Jack Houston, who bottles beverages for Green Bottling Company, figures it's a sweet deal for everyone. "Our fans tend to be drunks and derelicts," Houston explains. "This way, they'll end up buying several copies of the album. And we won't be stuck with a lot of CDs taking up valuable space in our homes." Houston says that Alameda head brewer Carston Haney is one such fan—and that he also happens to suffers from synesthesia, a condition that causes him to experience sound as a sensation he can taste in his mouth. "So he wanted to brew something that tasted like our music—you know, classy, strong, and expansive." Wow & Flutter has been around in one form or another fo more than 15 years, and in that time their music has evolved from immense glacial soundscapes, to buzzy, clattery, punk-infused songs reminiscent of Archers of Loaf, the latter of which describes where the band is at on their new album. "Tighter, shorter, more effective songs," Houston says.
The CD release party is Saturday, January 28 at Kelly's Olympian. At press time, the band hasn't settled on a price for the beer/album two-fer, but Houston promises it will be more than fair. Wow & Flutter: You will drink them up. Meanwhile, here's a band video from the PDX Pop Now Festival from 2005.