INTERVIEW
5 Questions for Bar Avignon's New Chef Eric Joppie
One of Southeast Division's classiest neighborhood eateries has a fresh face in the kitchen, and we've got the scoop on his approach to simple, delicious food.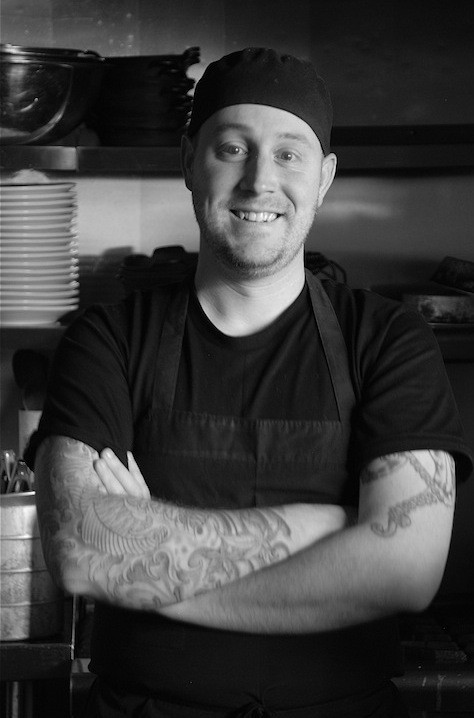 Eric Joppie is no stranger to the Portland food scene. A decade ago he was a line cook at Cafe Castagna alongside empire-builder Nate Tilden, but he departed Bridgetown to head several top kitchens in Sonoma (including the lauded—and tiny—Fork in Marin County).
Ten years later, Joppie has returned to PDX to helm another small kitchen, the intimate Bar Avignon owned by Nancy Hunt and Randy Goodman (2138 SE Division St). With the recent departure of chef Jeremy Eckel, Hunt and Goodman began their search for a chef capable of churning out five-star food without a lot of elbow room. Joppie wowed their palates with his upscale approach to comfort food—and a good dose of pastry experience—making the chef transition seamless for the close-knit staff and devoted diners.
Fans of Bar Avignon's menu will be pleased with the new kitchen offerings, which preserve the overall menu format, price point, and wine/beer/cocktail pair-ability with a fresh perspective. I sat down with Joppie to chat about his return to Portland, his favorite dishes on the new menu, and his passion for a good brunch.
1. What drew you to this neighborhood when you came back to Portland?
I was really drawn to Bar Avignon's small plate approach. I like that we can do so many styles of dinner here—people come in for a drink and a snack, a full happy hour spread, or a five course meal, which really lends itself to my kind of simple, old-world cooking. This place is small, so there's not a lot of room to get high-tech with the cuisine. Nancy and Randy have given me free reign to do what I want with the menu, as long as I keep it wine friendly. For starters, I've started doing all of the charcuterie in house, as well as a full fresh-made pasta program.
2. What are some dishes you're really excited about on the menu right now?
I love the duck breast pastrami. It's brined just like beef pastrami and coated with coriander and black pepper, then smoked low and slow over apple wood. It's served with caraway and beer mustard and a spelt cracker with rye, so all the parts come together like a Reuben. I'm also doing an agnolotti with foie gras and roasted apple. I sous vide the foie and roast the apples in the foie fat before blending everything together and putting it inside fresh pasta. The stuffed pasta is then served over a cider beurre blanc. [Owner Nancy chimes in with "It's the best thing on the menu!"]
3. Bar Avignon is known as a great place for food, but the drinks have long been the star. Do you get inspired by the cocktail and wine program?
I actually don't drink, so this is where Randy's wine expertise is key. He's so good at pairing wines with food that I can cook up something that may not be traditionally easy to pair, and he'll pull out a wine that works so well that it seems crazy nobody had put those tastes together before. I think he really enjoys the challenge.
4. The food scene here is certainly different than it was ten years ago. Now that you're back in Portland, which restaurants have you been enjoying?
I've been going around and trying a lot of brunch spots. I had the best brunch ever at Olympic Provisions Southeast. They're doing a porridge of polenta with chestnuts and stewed plums with heavy cream. It was inexpensive, homey, and awesome. I'm from South Texas, so I'm also a sucker for Podnah's Pit. You can't beat brisket and eggs in the morning.
5. So when is the long-promised brunch finally coming to Bar Avignon?
Bar Avignon's brunch is a work in progress, so stay tuned. We've already got a killer Bloody Mary recipe. I love making old-school pickles, and I'm a bit bummed that I came back on the tail end of the Portland pickle craze. I do think the Bloody Mary "salad" is the most important part of the cocktail, so I'll be able to put out the best pickles on a stick around.
Bar Avignon 2138 SE Division 503.517.0808
Open 7 days a week, 5 pm to close; Happy Hour Monday through Friday, 5 to 6 pm