INTERVIEW
5 Questions for Biwa's Gabe Rosen
Southeast PDX's popular izakaya is turning five next month, so we sat down to chat with the owner and chef about the accidental meal that inspired Biwa's menu.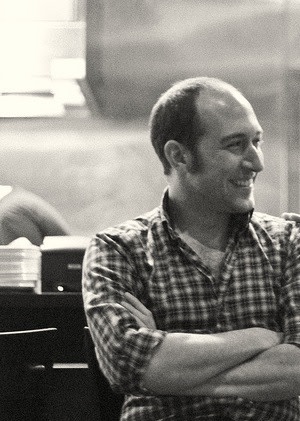 When Biwa first opened its doors in March of 2007, Japanese-inspired izayaka eateries were a new concept in Portland. Largely due to the success of chef and owner Gabe Rosen's small-plates menu featuring bold Japanese flavors (both traditional and experimental), the izakaya concept has since exploded (See: Tanuki, Wafu, Miho, Yuzu, Yakuza, among others).
Next month, Rosen and the entire Biwa team will be celebrating their fifth anniversary, complete with an all-out birthday bash on March 15th. In addition to Biwa menu favorites from years past, the restaurant will be offering the much-discussed Biwa Burger—a flavorful patty layered with BBQ pork and topped with spicy kim-chee mayo, typically available very late night only—all night long.
I sat down to chat with Rosen about his last five years, the Portland Ramen Boom, inspirational meals from his travels, and the unlikely success of a kimchi-spiked hamburger.
1. Since you opened five years ago, ramen has become a huge part of the Portland dining scene. Why do you think that is?
I think people get excited about ramen because it is an interesting and delicious snack food (like hamburgers, tacos, or pizza) and people love snack foods. Ramen is very approachable. Its fun to eat a hot bowl of noodles, and it is complimentary to the weather here, too. When we opened Biwa we hadn't originally intended to serve ramen, just udon. Right before we opened I kind of felt like soup noodles were going to be an important part of Biwa's possible success and at the last minute added a ramen to the menu.
2. What's changed about Biwa in the past 5 years?
We have become more open to changing our ideas about what "works" with the Biwa menu identity. We realized that it was more important to cook through the lens of the Japanese food culture than to cook "Japanese food". We use local ingredients from here, and some are similar to what Japanese cooks use, but we didn't want to limit ourselves too much to ideas about "tradition". It's become more important to recognize that we ARE using ingredients from here, that we DID train as French chefs (mostly), and that we LOVE Chinese food and clam chowder and don't want to completely cut off access to these influences and experiences in our cooking.
Eating in Japan is so eclectic. Japanese love Italian food, Chinese food, and many if not most izakaya serve French fries, potato salad, and cheese. We came to the realization that we could do things the way we want to, as cooks, because that's exactly what cooks in Japan do!
3. What makes the Biwa Burger so popular, and what's this we hear about Biwa tacos?
Well, it is a very tasty hamburger. The Biwa hamburger really started as kind of a fun, lighthearted joke on our first anniversary as a way of sharing a smile with the staff and customers that had been with us since the beginning, and it's become a tradition. It's just good, rich late night food. This year we are messing around with Biwa tacos… I don't expect that they will come around very often (maybe they will come back for cinco de mayo…) but we will do them for a few days the week of the birthday, although maybe not for the birthday itself… that's really a special day that we like to spend with the hamburger. We are working on a miso carnitas and a kimchi "chilli verde"-type chicken.
4. Which restaurants in town do you find yourself admiring—for their approach to food, drinks, or service style?
As many really great people and friends as I have in restaurants in Portland, I personally like going to not-so-much-part-of-the-scene restaurants on my rare nights off. I really like Two Brothers Cafe and Grill on Belmont, Pho An Sandy, and on rare special occasions I like to eat Korean food in Beaverton or dim sum on 82nd. I would eat sandwiches from Chop or chicken rice from Nong everyday without fail. I think, for the service and wonton soup alone, downtown's Chen's Good Taste is hands down one of the city's greatest restaurant assets. I think, honestly, that at a lot of iconic-type Portland restaurants, the tap lists are a lot more interesting than the dinner menus.
5. Is there a specific experience from your travels in Japan that greatly influenced something on your menu or in the restaurant itself?
One meal that I will never forget—a defining moment for me as a cook—happened completely unexpectedly. I took a road trip in Japan, on Hokkaido where I lived, with Kina [Rosen's wife and restaurant partner] and my crazy friend Shun. We rented a car and drove like 10 hours through the snow from Sapporo to a town called Kushiro that is well known for its seafood, particularly oysters. Shun, who is an incomparable gourmand, took us to a restaurant called Conchiglie.
At this place you walk in to what appears to be a grocery market filled with fish and vegetables, get a plastic tray, and pick out what you want to eat… shrimp, oysters, salmon bellies, mushrooms. You pay for your food at the cash register and walk through a door into a big room filled with long narrow charcoal grills with stools on each side, surrounded by windows and an amazing view of the North Pacific. It couldn't get any more simple from there—they provide napkins and shoyu and chopsticks. You can get beer and miso soup from a vending machine. And you grill the most delicious oysters until they just open up and add a little shoyu. It was so good and so primally simple.
This approach, this no frills simplicity, in all of the ways I have seen it in japan, has been a huge influence on me as a cook and informs much of how we do things at Biwa.
Biwa
215 Southeast 9th Avenue
503-239-8830
biwarestaurant.com