HOLIDAY EATS CHEAT SHEET
6 Local Sweets for Your Sweetheart
Our tasty picks for sugar-powered Valentines' Day gifts made with love, right here in Portland.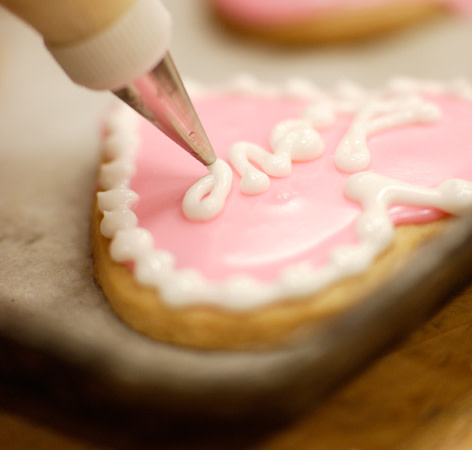 Somewhere along the line, desserts and candies earned the peerless reputation for being romantic, sexy, and made with love. Maybe you're more of a passionate pork belly lover, or have been known to swoon over a bottle of fine wine, but at the end of the day most folks think of sweet decadence when they think of culinary love. Here are some fool-proof picks for showing your love via Portland's best candies, cakes, and cookies this Valentines' Day.
1. Two Grand Central Bakery's Shortbread Linzer Hearts for $2.65 (Available February 3 to 14)
Each of these buttery, heart-shaped shortbread cookies from Grand Central Bakery are filled with Glenmore Farms raspberry jam and dusted with powdered sugar. Or maybe you're the almost-DIY type who's short on time—pick up some of Grand Central's U-Bake chocolate chip cookie dough or puff pastry to whip up your own goodies without the prep work.
2. Pix Patisserie's French-Inspired Specials, $2.25-$8.75 (Available now through February 14)
This petite patisserie is serving up a dose of Parisian l'amour in sugar form, like their Truffle Heart (a caramel almond truffle and cinnamon macaron hidden in a heart of chocolate mousse), St. Honoré for St. Valentine (puff pastry with raspberry pastry cream, chocolate covered pop rocks, crème chantilly, rose macarons, and fresh raspberries), and heart-shaped versions of their crave-worthy macarons. In addition to their Valentines' Day treats, one chocolate gift box at each Pix locations will feature a pair of real diamond earrings hidden amongst the candies!
3. Petunia's Gluten Free and Vegan White Chocolate Raspberry Passion Tartlette for Two, $8 (Order online by February 8)
This decadent dessert combines a coconut macaroon cookie crust with white chocolate raspberry mousse and tangy passionfruit curd. The tartlette is finished with fresh berries for even more color and sweetness. Petunia's online owner and chef Lisa Clark is also hosting a Valentine's Day baking class on Sunday, February 12th. For $50 (if you reserve a spot by this Sunday), Clark will help you make White Chocolate Raspberry Passionfruit Tarts, Chocolate Strawberry Sweetheart Cupcakes, and Triple Chocolate Ecstasy Cupcakes.
4. Two Fresh Chocolate-Dipped Strawberries from Elephant's Deli for $3 (Available February 13 & 14)
It doesn't get more classic than two juicy strawberries dipped in smooth chocolate (to be hand-fed to each other, naturally). For a full fine dining experience at home without the work, the deli also has a full Valentines' Menu to seduce your sweetheart. Order online or stop into Elephant's Deli to reserve your desserts today.
5. Five Decadent (and Guilt-Free) Truffles from Missionary Chocolates for $15 (Available Anytime)
These chocolate truffles just took home the Best in Show and People's Choice trophies at last week's Chocolates For Choice event, and they also happen to be vegan. Yes, Missionary Chocolates are made by a naturopathic doctor to be as healthy as chocolates can be, but they're also some of the best chocolates in town. For your sweetie, pick up a five-piece box packed with flavors like Meyer Lemon Explosion, Vanilla Salted Caramel, Trailhead Espresso, Dark Chocolate Delight, and Spicy Cinnamon Chipotle.
6. Gold-leaf icons from Alma Chocolates, starting at $15 (Available Anytime)
These stunning treats are inspired by items of religious reverence so you can show your darling you worship them. Made from solid single-origin dark chocolate and hand gilded with 23k edible gold leaf, Alma's edible icons highlight the true value of sweets this time of year. Choose between sacred hearts, flaming hearts, amor hearts, or even anatomical hearts for the more literal-minded lover. Alma is also a one-stop shop for truffles, handmade candies, and ooey-gooey salted caramel sauce. That caramel can be spread on anything… but we'll leave that one up to your imagination.