Current Events
Beer O'Clock for Brainiacs
Thinking+Drinking=Good Times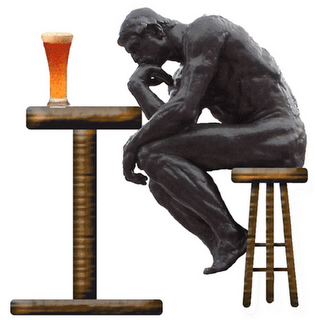 Some people drink so they don't have to think; some think because they cannot drink. But if you're like most of us, you sit comfortably in the happy medium where the two coexist. At least, that's what Oregon Humanities is counting on with their fourth annual installment of Think&Drink, a lecture series that wraps cogitation in a fluffy beer 'n burger shell, cooked to perfection. It's like the most socially evolved happy hour ever, except instead of feeding your face for cheap you can feed your mind for free.
"So much information we get is in the form of a lecture," said Jennifer Allen, director of programs for Oregon Humanities, which is why their programs feature not one speaker but two, populous pubs instead of dry lecture halls, and ambitious, fascinating topics, like This Year's Hardcore Future Emphasis: Food, Robotic Warfare, Biological Enhancement, and Artificial Intelligence. "A lot of philosophers anticipate that much of what seems so futuristic is actually quite imminent," Allen added.
First up on March 14 is Portland State's Robert Liebman, professor of sociology and urban studies, to dish with UC Irvine's David S. Meyer, professor of sociology, political science, and planning, about social changes on the horizon in our country. With the marketplace barely recovered from its hardest stumble in decades, political powers churning, and globalization restructuring America's economy and hegemony, the study of social change is more relevant now than ever, Liebman says. "Think and Drink opens conversations on important issues of the day and gives traction on questions that speak to the future of Oregon and America," he explains. He welcomes both thinkers and drinkers—and especially both—to this year's kickoff event.
The Mission Theater, whose spaciously seated, ambience-flooded venue is complemented by its full line of pub grub and handcrafted pick-me-ups, is bedecked with that special McMenamins bonhomie that makes people want to gather and gab. It even has a genuine pulpit! So come listen, talk, share, think … and if you can do all that while having a beer—well, then. Hard to imagine there's more to life than that.