MENU WATCH
Service Shake-Ups
A few Portland favorites are mixing up their menus, including the debut of dinner service at Bijou Cafe and Chef's Choice tasting menus at Castagna—with daily vegetarian options.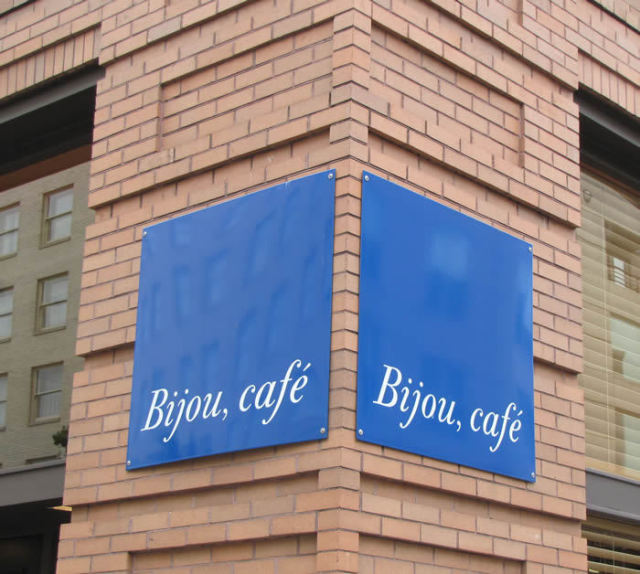 Bijou Does Dinner: Popular downtown dining destination Bijou Café will add Friday dinner service starting this week, February 3rd (132 SW 3rd Ave). According to Chef Josh Lorenzen, doors will open at 6, dinner will be offered from 6:30 on, and each week will feature the musical stylings of live jazz musicians from the Pacific Northwest.
An early look at the new menu reveals tastes like pan-seared steelhead with broccolini and garnet yams, braised lamb shanks with apricot pistachio couscous, linguine with clams and Italian sausage, and a pastrami sandwich with house-made sauerkraut and gruyere. A varied selection of snacks and small plates will also be available for those stopping in for the music, including curried butternut squash soup, warm black kale salad with hazelnuts, local cheese plate, and mussels with andouille and fennel.
Paragon Rolls Out Sunday Brunch: Pearl District eatery Paragon will debut brunch service on Sunday, February 19 from 10 am to 2 pm (1309 NW Hoyt at 13th). The Sunday menu will feature brunch classics like pork belly hash, eggs benedict, buttermilk flapjacks and a Portland take on huevos rancheros.
On the liquid side of things, look forward to a Bacon Bloody Mary and the Wake Up Call, with Amaretto di Saronno, Tia Maria, Stumptown Coffee and fresh whipped cream. For the kick-off weekend, brunch will be offered Sunday and Monday (Presidents' Day, February 20th), and proceeds will benefit Blanchet House.
Castagna Debuts Tasting Menus: Choosing items off the menu at Castagna used to require a leap of faith, due to the difficulty of capturing the restaurant's exquisite dishes in typical appetizer, entree, and dessert descriptions. With the debut of Castagna's new daily tasting menu only service, diners will be able to enjoy Chef Justin Woodward's culinary creations without being stymied by the choice between "winter squash hot and cold with wild char roe, nasturtium, mustard and arugula" and "cauliflower in various textures with oyster and oyster leaf".
Castagna will now offer frequently-shifting chef's choice menus of five ($65) or ten ($95) courses, including a daily vegetarian five-course option (ten-course veg meal available with 24 hours notice). Each dish featured on the new tasting menus will be paired with a wine selection from sommelier Jack Hott for an additional fee, and dishes will also be available a la carte (a perfect intro for first-time diners).
Chef Woodward has long been a champion of the farmers and foragers that deliver the best of the country to his kitchen, and his avant garde take on Northwest Cuisine truly highlights the best of Oregon's fresh-picked bounty. With the new freedom of the chef's choice menus, Woodward will have even more room to experiment.