BREAKING FOOD NEWS
Daniel Mondok Reveals New Wine Country Restaurant Details
Chef Daniel Mondok and Master Somm Brandon Tebbe unveil plans for Paulée, their ambitious new Dundee eatery catering to wine lovers and wine industry workers—muddy boots and all.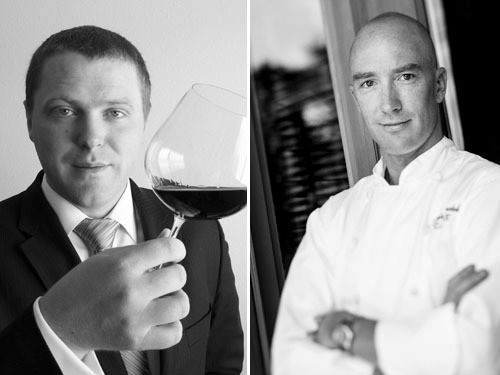 Most wine lovers think of Dundee as the one-lane stretch of 99W that slows their tasting room trips to a crawl, but that's about to change. No, they're not building a new wine country highway, but starting in April Dundee will be more than a traffic headache—the small town will soon be home to Paulée, the new project from Sel Gris visionary Daniel Mondok and world-class wine expert Brandon Tebbe.
Mondok and Tebbe, along with chef du cuisine (and Paley's Place/Jean Georges alum) Sean Temple, have collaborated to create a truly unique project in the former Farm to Fork space at 1410 N Hwy 99W. The restaurant aims to be both casual and upscale, will source from local farms within walking distance of the kitchen, and will boast one of the most ambitious drink programs in Oregon.
Inspired by the Paulée de Mersault, the annual Burgundian harvest festival that brings together winemakers, cellar workers, farmers, and the surrounding wine country community, Paulée aims to be a gathering spot for the Willamette Valley's residents and visitors alike. Mondok and Tebbe have been roaming the valley taking to winemakers, farmers, and tasting room employees to find out what the community needs, and have incorporated their combined decades of expertise in food and drink to create a dining experience unlike any other in the area.
The 90-seat "modern rustic" restaurant will feature two dining areas—a casual bar/lounge set-up and a full dining room anchored around a 10-foot glass-enclosed wine cellar and intimate chef's table. The build-out is still in process, but guests can expect to see plenty of local wood and natural stone accented by industrial metal elements and clean lines. What they won't see are white table cloths—while the food will be a welcome revival of Mondok's farm-driven and internationally inspired modernist cuisine, the talented chef hopes to break down the notion that tasting menus and quality service need to come with a stuffy atmosphere.
The team hopes to draw in the community straight from the vineyard for breakfast pastries, casual happy hours, and full fine-dining dinners. In the a.m., an on-site pastry chef will serve up warm scones, muffins, and breakfast breads in a "coffee shop atmosphere" including drink service from highly-trained baristas using an array of locally-roasted coffee like Heart and Coava.
The evening offerings from will be divided into two sections, a fully raw bar menu and a four-course dinner menu (with everything available a la carte and all special requests honored). At the bar—which will be open for the early and late night crowd—casual diners will find raw specialties like lamb tartare, oysters, raw veggies, and gorgeously composed salads that will pair perfectly with over 48 Enomatic-preserved wines by the glass, 12 local wines on tap, 12 draught beers (half local, half international), and a full-scale mixology program. Every server will undergo extensive training from the Court of Master Sommeliers, beer certification from Cicerone, and mixology training through BarSmarts to ensure a quality sip every time.
In the dining room, guests will be able to choose between five options for each course, including hot and cold appetizers, entrees, cheese, and dessert. Each dish will showcase Mondok's worldly cuisine, inspired by Asian, Spanish, and classic French flavors and techniques with a focus on ingredients sourced from the Willamette Valley.
To source as locally as possible while maintaining control over the quality of the ingredients, Mondok and Tebbe have leased three plots of land suitable for produce, poultry, and livestock farming. A one-acre space adjacent to the restaurant will bloom into a garden supplying flowers, herbs, produce, and eggs for the eatery. Complete with a bocce ball court and room for outdoor events, this small-scale farm will be a clear sign to diners that their dinner isn't just locally sourced, it's grown next door. A larger 2-acre plot lies just down the street, and another 22-acre farm in Amity could source much of the restaurant's meat within a few years.
If all goes as planned, this inspired farm-to-fork eatery will make Dundee a destination in its own right, and not just a bumper-to-bumper queue to wine country. The restaurant is slated to open in April, so stay tuned for photos, menu details, and more info as it comes in.
Paulée
1410 N Hwy 99W