NEIGHBORHOOD NEWS
Eat Beat Neighborhood News
Top food news stories from around Portland, including a third Barista coffeehouse location and a new breakfast menu at Sweetpea vegan bakery.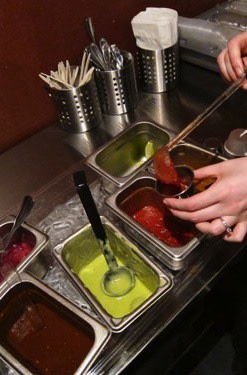 Southeast
SE Division: Nuck Zukin's tacos de guisados joint Mi Mero Mole is now open for Saturday and Sunday lunch, starting at 11 am (5026 SE Division St).
SE Stark: Sweetpea Baking Company—part of the all-vegan strip mall on SE Stark and 12th—has replaced their Sunday all-you-can-eat brunch with a full breakfast menu (1205 SE Stark St). The morning meal will be offered from 8 to 11 am every day, and includes vegan and gluten-free dishes like biscuits and gravy, breakfast sandwiches with house-made sausage and hollandaise, quiche, and loaded grits topped with vegan cheese and bacun bits.
Southwest
SW Washington: Barista owner Billy Wilson—owner of Portland coffee mecca Barista —has revealed the location of the coffee shop's third Portland outpost at 529 SW 3rd Avenue. In addition to the flagship Pearl District location and NE Alberta coffeehouse, Portlanders will be able to get their artisan coffee fix in Portland's Hamilton Building, around the corner from the Blueplate Lunch Counter on SW Washington.
Northwest
NW Vaughn: After a month-long remodeling closure, Meriwether's Restaurant has re-opened (2601 NW Vaughn St). The kitchen updates will double the classic eatery's output capacity, including new pizza offerings hot from a brand-spanking-new wood-fired pizza oven.
Got a food news tip? Send it my way at [email protected]!